Guided Tours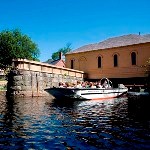 Lowell National Historical Park offers a wide variety of tours and programs throughout the year. To make a reservation, call (978) 970-5000.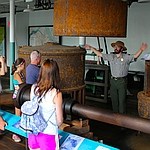 Suffolk Mill Walking Tour
Discover the diversity and variety of Lowell's stories. Explore how numerous factors have shaped both the city's past and its present. Tour combines a walk along the Merrimack River, a guided visit to the River Transformed exhibit at the Wannalancit Mill, and a short trolley ride (when available). Visitors should plan for 1.5 miles of outdoor walking.

Currently not offered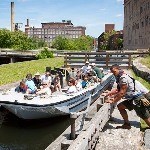 Working the Water Tour
Who dug the canals? Who laid the stone walls? Who operated the locks and gates? Discover the human stories of the workers who built and operated Lowell's remarkable waterpower system. Find out who is still "working the water" today.
Currently not offered.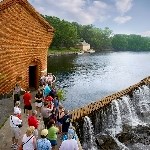 Engineering Innovation Tour
Lowell was the Silicon Valley of the early 19th century-a center of innovation, invention, and technology. Learn about the experiments, feats of engineering, and creative problem solving that made Lowell successful. Discover the spirit of innovation that continues to shape the city today.
Currently not offered.


Last updated: October 23, 2021