Guided Tours
Guided tours are offered seasonally at Lowell National Historical Park. Go to our operating hours and season page to learn more about visiting the park.

Outdoor tours may be canceled due to unsafe weather conditions, including high heat or rainstorms. If you are unsure about a reserved tour, please call us at 978-970-5000.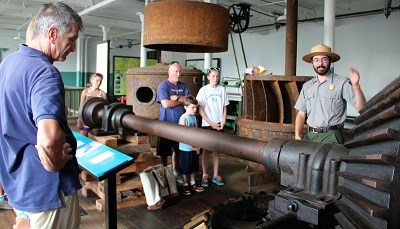 Suffolk Mill Tour
Discover the diversity and variety of Lowell's stories. Explore how numerous factors have shaped both the city's past and its present. Tour combines a short trip through the historic city accompanied by a park ranger and a guided visit to the River Transformed Exhibit at the Suffolk Mill. Visitors should plan for a 75-minute tour, much of which will be spent on your feet. Depending on transportation options, visitors can expect to walk as much as 1.5-miles on paved paths and are encouraged to bring water with them.

From September 4th to October 21st this tour is offered at 2 p.m. daily and will leave from the Boott Cotton Mills Museum (115 John Street).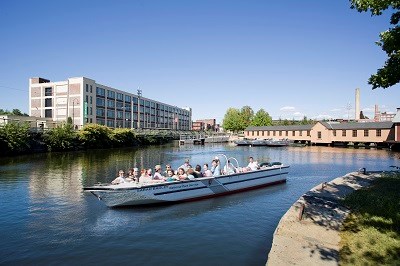 Pawtucket Canal Boat Tour
Who dug the canals? Who laid the stone walls? Who operated the locks and gates? Discover the human stories of the workers who built and operated Lowell's remarkable waterpower system while riding along the historic Pawtucket Canal. Disembark at the historic Francis Gate and explore how mill owners and engineers harnessed and directed water through the city. Find out who is still "working the water" today.

Canal tours include a short walk from the park Visitor Center at 246 Market Street to the boat landing at Swamp Locks. The walkway follows a gentle, paved slope. Please wear comfortable shoes. Francis Gate access is dependent on water levels and may not always be available.

Tour involves at maximum 0.75 miles of walking. To enter the Francis Gate visitors must disembark form the boat and climb a steep set of stone stairs. Visitors are welcome to remain in the boat if they do not feel comfortable climbing to the historic gatehouse with the ranger. Please use the restroom beforehand as there are none accessible on the tour. Bring water and sun protection as the boat is not covered.

From June 18th to September 4th tours will run Thursday - Monday at 11:00am, 12:00 noon, and 2:00pm.

From September 9th to October 9th, tours will run Saturday - Sunday at 11:00am, 12:00 noon, and 2:00pm.

Tours are not available July 29th - 30th and September 23rd.


Visit www.recreation.gov to reserve your space and purchase tickets

Day-of tickets are available on a first come, first served basis at the Visitor Center.

Meet at the Visitor Center (246 Market Street) at least 10 minutes before the start of the tour.
---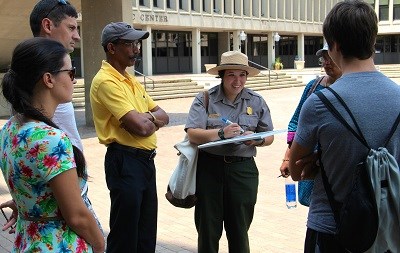 Downtown Walking Tour
Join a Park Ranger for a special 45 minute downtown walking tour. Learn about the people that have shaped Lowell over the past 200 years while you explore historic downtown sites.

Not Currently Offered

---


Last updated: August 30, 2023