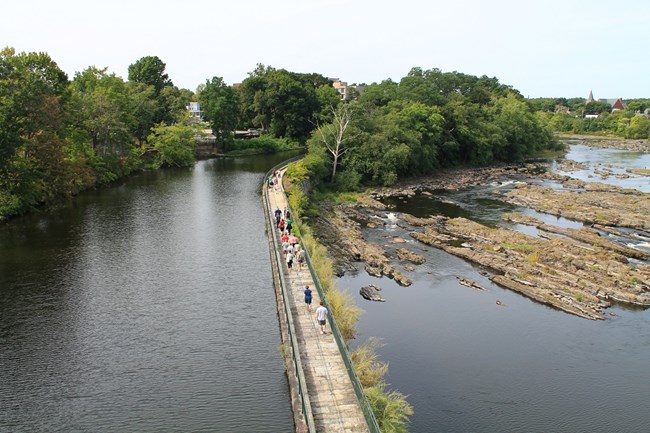 Update June 2018:

The Northern Canal Walkway is open (when water levels allow), but construction work on the Pawtucket Street Bridge over the Northern Canal has begun. Due to construction, a detour has been developed around the bridge and signage has been posted. The detour brings users up 24 stairs to Pawtucket Street. To continue on the canal walkway, a 23-stair path returns to the Northern Canal. Updates will be posted here as any new information becomes available, or call the park at (978) 970-5000.
Walking the Northern Canal
The normal operating (open) season for the Northern Canal Walkway is from May 15-October 15. During the operating season, and subject to waterflow and construction limitations, the walkway is open from 9 a.m. - 5 p.m.
During the summer months, visitors can experience one of the great marvels of mid-19th-century American engineering- the Northern Canal. Finished in 1847, the Northern Canal runs along the Merrimack River separated by a 36 foot high granite wall later named the "Great River Wall."
The Northern Canal Walkway (which includes the Great River Wall) provides breathtaking views of the Merrimack River, the canal and the surrounding areas. However, access to the Northern Canal Walkway is only available when the flow rate in the Merrimack River is under 3500 cubic feet per second.
To find out if the Northern Canal Walkway is open, please visit the
USGS flowrates page
and check the "most recent instantaneous value" towards the bottom of the page. If this value is below 3500 the walkway will be open. (see screenshot of the page below)