Mogan Cultural Center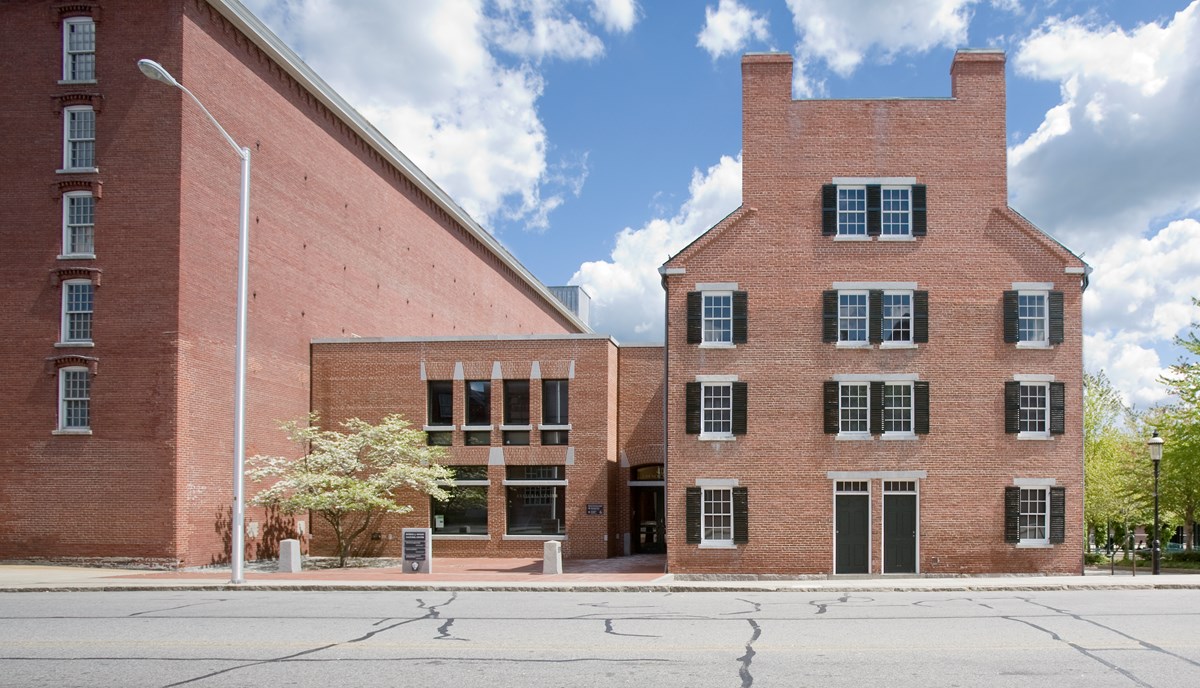 Mogan Cultural Center
40 French Street

Housed in a historic boardinghouse, the Mogan Cultural Center is a hub of information on the cultural history of Lowell. Featuring museum exhibits, a research library, and a traditional arts program, visitors are encouraged to learn more about the unique cultural history of Lowell, past, present, and future, at this park site.

Hours of Operation
The Mill Girls Boardinghouse Exhibit at the Mogan Cultural Center is currently
open daily from 1:30 to 4 p.m.
On November 28
th
the exhibit will close for the season.
The Center for Lowell History has currently limited their hours. Visit the
Center for Lowell History website
for more information.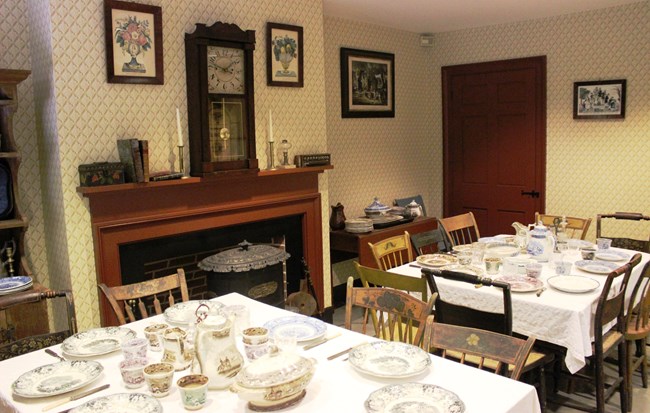 Museum Exhibits

Mill Girls Boardinghouse Exhibit
Explore a recreated boardinghouse (ca. 1841) and learn more about the lives of the early mill girls outside the factory walls. The first floor features a recreation of a boardinghouse dining room and kitchen. These bustling spaces were staffed by a boardinghouse keeper, whose room is adjacent. In this self-guided space, learn what early factory workers would eat on a daily basis and how the keeper prepared three meals daily.

Continue upstairs to the girls' crowded bedrooms and listen in on their nighttime conversations. Check out the exhibit cases to see how they spent their precious free time and what they wrote home to their families about life in Lowell. Visitors may also learn more in-depth information about select mill workers, including the poet Lucy Larcom and the suffragist Harriet Hanson Robinson.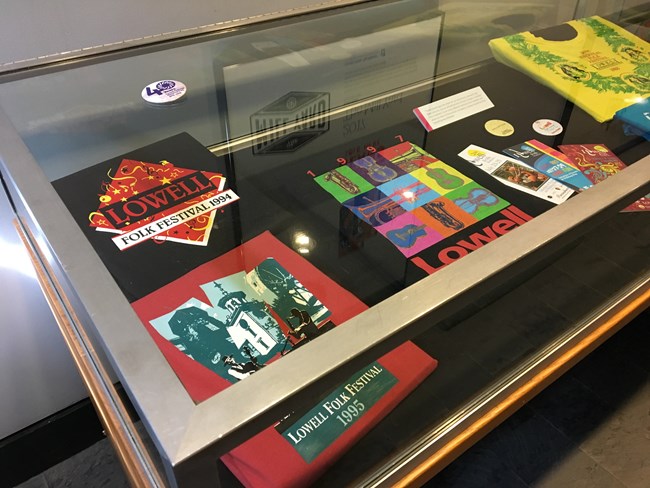 Branding Lowell: A History of Local Design Exhibit
In the Mogan Center atrium, the
Branding Lowell
exhibit features a history of logos, slogans and branding. The exhibit focuses on how the city, local businesses, and organizations designed their symbols and how this imagery reflects Lowell's collective and evolving identity since its founding. Spearheaded by Mark Van Der Hyde, a digital project manager by trade and an enthusiastic and dedicated volunteer at Lowell National Historical Park and Tony Sampas, a fellow Lowell history enthusiast and archivist for UMass Lowell,
Branding Lowell
is a content–rich, vibrant visual history of Lowell.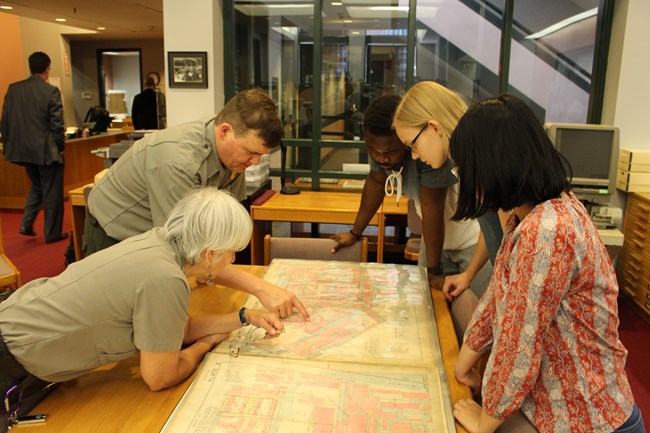 Center for Lowell History
A University of Massachusetts Lowell research library, the Center for Lowell History was established in 1971 to assure the safekeeping, preservation, and availability for study research materials in unique subject areas, particularly those related to the Greater Lowell Area and the University of Massachusetts Lowell. Researchers can visit the Center for Lowell History to explore their robust selection of holdings. For more information, and to explore the Center for Lowell History's digital collections,
visit their website
.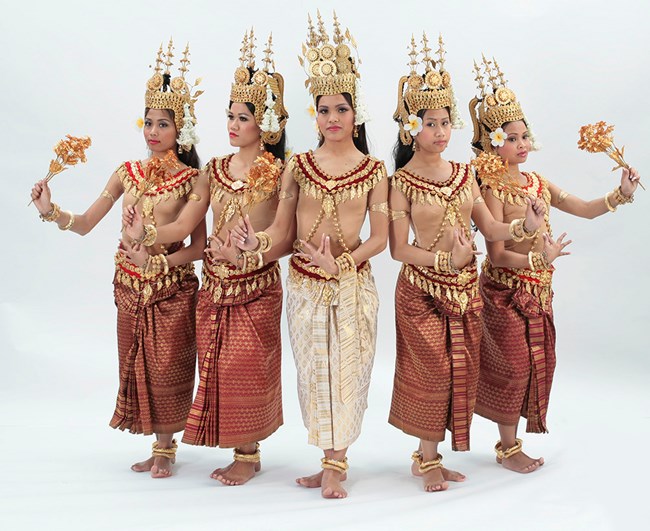 Angkor Dance Troupe
Established in 1986 when Tim Thou and a passionate group of Cambodian refugees came together in Lowell, Massachusetts with the sole purpose to revive a culture once almost lost, Angkor Dance Troupe (ADT) teaches and performs a body of work developed at the Royal University of Fine Arts in Phnom Penh, Cambodia - where they are considered the world's cultural source and standard bearer for traditional Cambodian arts. Through cultural exchanges and programs including dance, music, and Khmer Language class, students learn how to explain the history and stories of the Cambodian people through the power of facial/body language, musical composition, and lyrical speech. The Mogan Cultural Center serves as the rehearsal area for the Angkor Dance Troupe. To learn more about the ADT, visit the
Angkor Dance Troupe website
.
Parking
The Mogan Cultural Center is a 10 minute walk from the Visitor Center (246 Market Street) and the National Park Service parking lot (304 Dutton Street). If you would like to park closer to the museum, parking is available for a fee at city garages or on metered street parking.
Disability designated parking spaces are provided in the city parking garage at 75 John Street. The garage has a height limitation of 6' 8" for vehicles. Vehicles that display disability license plates or a hanging placard may also park at no cost in and designated parking space within the City of Lowell.
Accessibility
For Visitors With Mobility Impairments:
The Mogan Cultural Center is fully accessible. Service dogs are welcomed throughout the Park, on tours and in all facilities. For more information about service animals, please refer to the ADA service dog
guidelines
.
For Visitors With Hearing Impairments:
All exhibit films throughout the Mogan Cultural Center feature captions. Please ask a staff member for more information.
Last updated: October 23, 2021