Vassall-Craigie-Longfellow House
The Vassall-Craigie-Longfellow House, built in 1759, is an outstanding example of Georgian architecture. The many rooms inside contain collections that tell stories of the house's residents over a two hundred year span. This virtual tour invites you to look into twelve of its rooms and explore its furnishings and stories.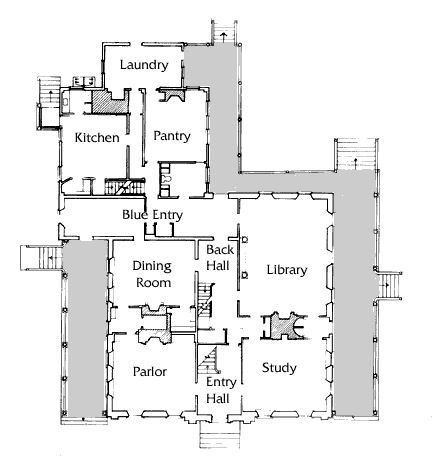 First Floor
The first floor can be divided into two main sections. The front portion of the house contains the structure of the original Georgian mansion and holds the public, formal rooms, including the front entry, parlor, dining room, study, and library. The blue entry marks the beginning of the 1790s ell and serves as a connecting and transition space. At the back of the house is the service ell, largely built in the 1790s as part of Andrew Craigie's expansion, containing the kitchen, pantry, and laundry areas.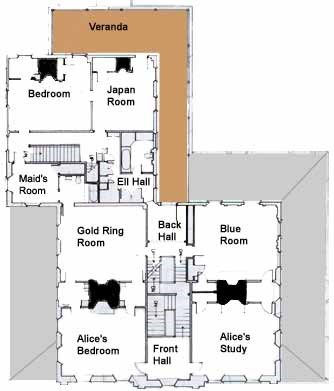 Second Floor
The seven chambers on the second floor are private family spaces. Over the house's two hundred years of occupancy, many people have lived in each room. As furnished today, the front, south-facing rooms reflect their use as Alice Longfellow's bedroom and study in the early twentieth century. The northeastern chamber is the "blue room" or guest bedroom. The northwestern chamber, called the "Gold Ring Room," preserves its furnishing as Henry Longfellow's bedroom. Charley Longfellow created the Japan Room in the back ell as his sitting room in the 1870s.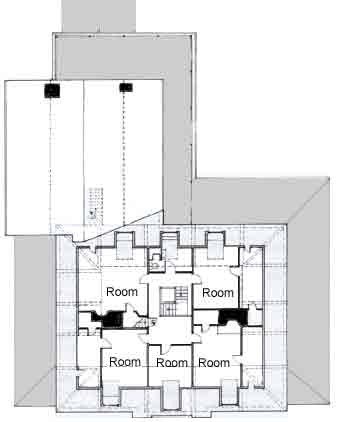 Attic
The third floor, reached by the back stairway in the main house, contains storage areas and several small bedrooms. Although there is little documentation of room usage on this floor, it was probably used for unmarried female servants' sleeping quarters for much of the house's history. The Longfellow family also stored trunks, unused furniture, and household items here.
Boarders from the 1940s to 1970s periodically occupied the bedrooms, including a group of Radcliffe students who called themselves "The Atticans."
The rooms have decorative finishes, like patterned flooring and wallpaper, as well as exposed structural elements, including hand-hewn roof beams. Six windows, facing north and south, provided the only ventilation for the third floor.
Last updated: February 2, 2022