Southwest Chamber: Alice Longfellow's Bedroom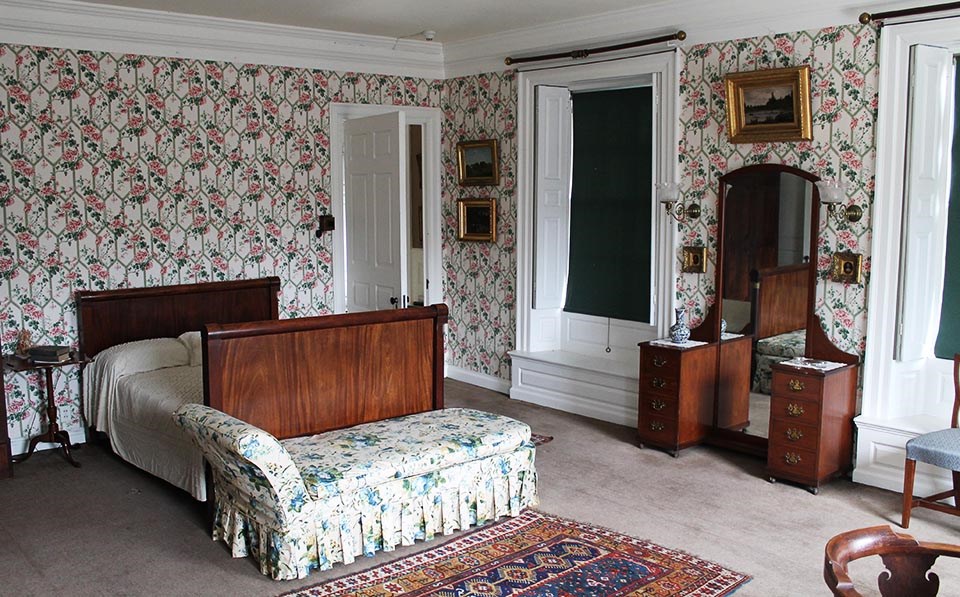 This chamber at the front of the house has views south to the Charles River and west, historically over open space. Originally, the only access to the room was from the center hallway, sharing a landing with the southeast chamber. Sometime after 1840 two doors were cut into the north wall providing access to two small passages connecting to the Gold Ring Room.
The early use of this room is unclear. In the nineteenth century, it was used by boarders and then as a guest room. As furnished today, it reflects its use as Alice Longfellow's adult bedroom.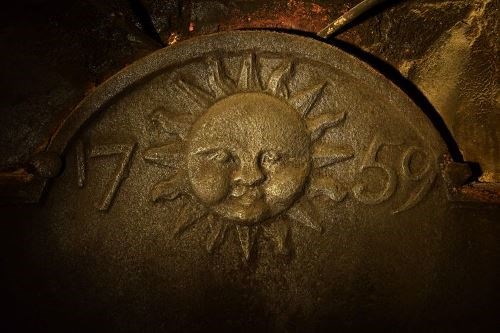 Colonial Features
Though it is unknown which of the Vassall family slept in this room, it would have been used as a bedchamber from the house's initial construction.
Clues in the fireplace to this room help to establish the 1759 date of the house. The iron fireback includes the date 1759 along with the Vassall emblem of a sun. The manganese tiles surrounding the fireplace were made in Liverpool, England by John Sadler in 1756-57.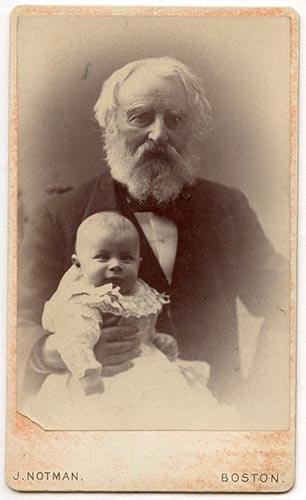 Guests, Babies, and Biographers
During Henry and Fanny Longfellow's ownership (1843-1882) this room served as a guest room. Certain guests stayed here with frequency - George Washington Greene with such frequency that in 1879, Longfellow declared it "the chamber known as 'Mr. Greene's Room.'"
Twice during this period the room was used for labor and delivery. The Longfellows' youngest child, Anne Allegra, was born here in 1855. In 1879, Edith Longfellow gave birth to her first child, and Henry Longfellow's first grandchild, in the same room.
After Henry Longfellow's death in 1882, his brother Samuel Longfellow lived in this room while he worked on his three-volume biography, Life of Henry Wadsworth Longfellow.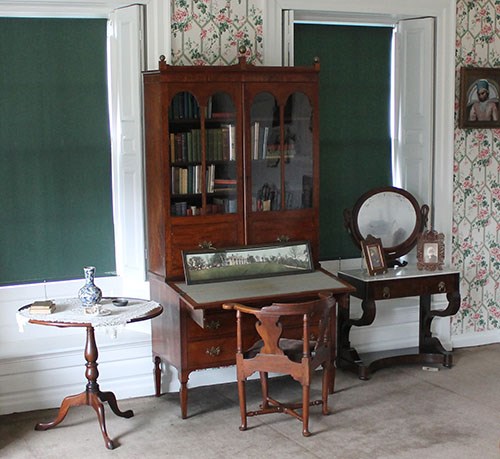 Alice Longfellow's Bedroom
Alice Mary Longfellow made this room her bedroom as an adult, probably about 1892. The furnishings reflect her occupancy of the room around the turn of the twentieth century. The bedroom set, including a French Empire bed and mahogany wardrobe, were already antique pieces, part of the wedding gift from her grandfather to her parents in 1843.
On Alice's desk is a picture of Mount Vernon, which she worked to preserve as a long-time member and officer of the Mount Vernon Ladies Association.
After Alice's death in 1928, the room was again used as a guest room for family and boarders.
Last updated: January 31, 2018