Accessibility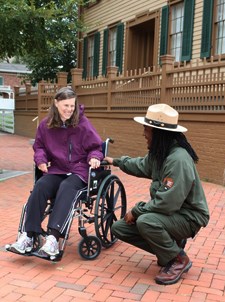 Lincoln Home National Historic Site is dedicated to providing opportunities for visitors with disabilities by offering a wide range of media and programs that are accessible.
Accessible features of Lincoln Home include: lift access to the first floor of the Lincoln Home, Arnold and Dean Houses;availability of wheelchairs for use on-site;open captioned and audio described park films;assisted listening devices;foreign language subtitled house tour videos;tactile exhibits;and a process to request a sign language interpreter. Unfortunately, the Lincoln Home is not accessible to motorized wheelchairs.
Lincoln Home Tours
The Lincoln Home is FIRST FLOOR accessible only. When acquiring a ticket for a tour, please inform the ranger issuing the tickets of the need for an accessible tour. A ranger will be available to assist visitors requiring the accessible entrance to the Lincoln Home.
Equipment Available to Check-out
Lincoln Home provides wheelchairs and assisted listening devices for visitor use while on-site. Please inquire at the Visitor Center information Desk to check out any equipment. Motorized wheelchairs, scooters, and Segway devices are not permitted in the Lincoln Home.
Foreign Language Subtitled Videos
Videos of a ranger-led tour of the Lincoln Home, subtitled in 9 languages, are available. To request to view one of these videos, please inquire at the Visitor Center information Desk. Available languages include: English, Spanish, German, French, Italian, Chinese (Mandarin), Japanese, Korean, and American Sign Language.
Foreign Language and ASL tour videos are available on YouTube.

Foreign Language Tour Booklets

There are tour booklets available in English, Spanish, German, French, Italian, Chinese (Mandarin), Japanese, and Korean. You can also request a booklet at out at the Visitor Center Information Desk.
Sign Language Interpreter
A visitor or group can request a sign-language interpreter for their Lincoln Home visit by filling out and sending in the "Request for Sign Language Interpreter Form." A two-week advance notice is requested. In addition, a video of the Lincoln Home tour in American Sign Language is available. Please inquire at the Visitor Center information Desk about the American Sign Language tour video.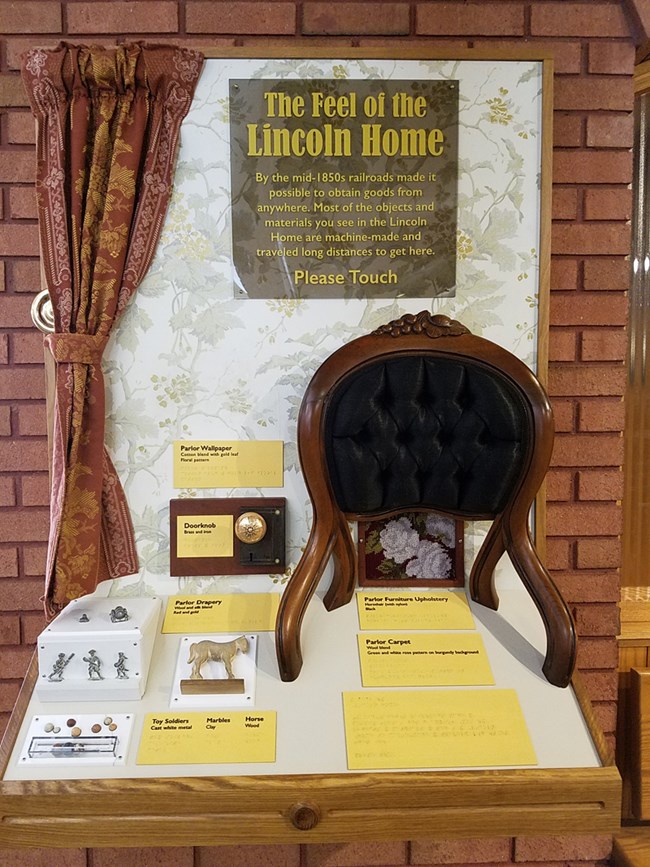 Tactile Exhibit

Get the feel of the Lincoln Home by touching the objects and materials that filled their rooms. Descriptions accompany the artifacts in English and in braile to help our blind or visually impaired visitors have a sense of how the Lincoln's home appeared.

America the Beautiful Access Pass
If you are a U.S. citizen and have a permanent disability, you may obtain a free Access Passport at the Lincoln Home Visitor Center. The passport allows free admission to federal areas which charge entrance fees and provides reductions for other types of user fees.

If you have questions about the accessibility of Lincoln Home, please contact Accessibility Coordinator Brycen Turnbull at brycen_turnbull@nps.gov or 217-391-3251.
Last updated: December 14, 2017