Physical / Mobility
Getting around the Site
Site is 4 blocks square with wide gravel streets and wooden boardwalks

Boardwalk planks may be uneven and boardwalks can be slippery when wet or icy

Gravel streets can be loose and uneven.

Curbs between boardwalks and gravel street can be relatively deep. Currently, no ramps are available at the intersection of 8th and Jackson. Sidewalks can be accessed from the street and vice-versa at the respective ends of each block.
Wheelchairs can be checked out free of charge for use on the Lincoln Home National Historic Site grounds. To check out a wheelchair, please visit the Visitor Center front desk to request a wheelchair checkout form. Wheelchair availability is given on a first-come, first-served basis.
Visitor Center
Parking: Parking lot located south of visitor center, with three accessibility-reserved parking spaces.

Routes: Paved route from parking lot to visitor center with slight uphill incline. Ramp is located to left of stairway path to visitor center.

Entrances: Located on south (parking lot side) and north sides of building. Both operate on a push-button door opener.

Restrooms: Men's and women's restrooms are both wheelchair accessible.

Water: Water fountains are located outside the south (parking lot) entrance to visitor center. Inside the visitor center next to the restrooms a water fountain and water bottle filling station is available.

Benches: Several are located inside visitor center. Picnic tables are available right outside visitor center on south side (side closest to visitor parking lot).

Exhibits: Some tactile exhibits.

Theaters: Incline slightly, downwards towards the front rows. Spaces for wheelchairs are located in the rear rows of each theater. Doors open automatically at start and end time of films and can also be opened with a push-button door opener.

No pay phone
Lincoln Home Tour
Tours of the Lincoln Home are ranger-led and last approximately 25 minutes.

The tour starts in the visitor center, then continues out of the visitor center and through the site, about one block east, to arrive the Lincoln Home.

There are 9 steps from the boardwalk to the front door of the Lincoln Home and a relatively steep staircase of 14 steps from the first floor to the second floor.

The Lincoln Home is wheelchair accessible on the first floor only. When acquiring a ticket for a tour, please inform the ranger issuing the tickets of the need for an accessible tour. A ranger will be available to assist visitors requiring the wheelchair lift accessible entrance to the Lincoln Home.

Wheelchairs and other accessible tour aids can be checked out at the Visitor Center front desk.

Motorized wheelchairs, scooters, and Segway devices are not permitted in the Lincoln Home. Walkers and self-provided wheelchairs are permitted, provided they are able to safely clear the doorways and corners of the Lincoln Home.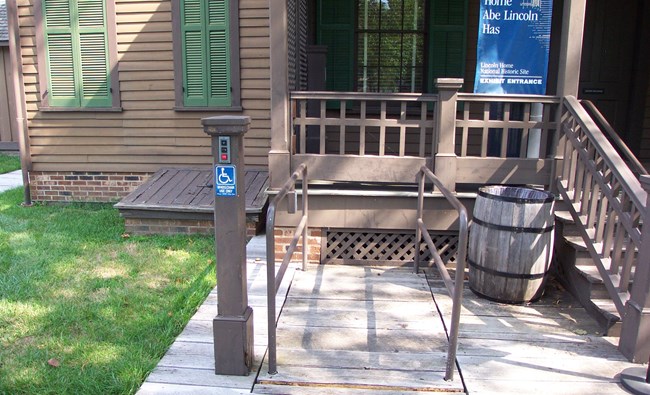 Dean House
Entrances: Visitors can enter the exhibit area from the southern door. Four steps are required to reach the door.
Wheelchair lift: A wheelchair lift is located directly left to the stairs leading up to the southern door.

Exhibits

No restrooms, water, or pay phone available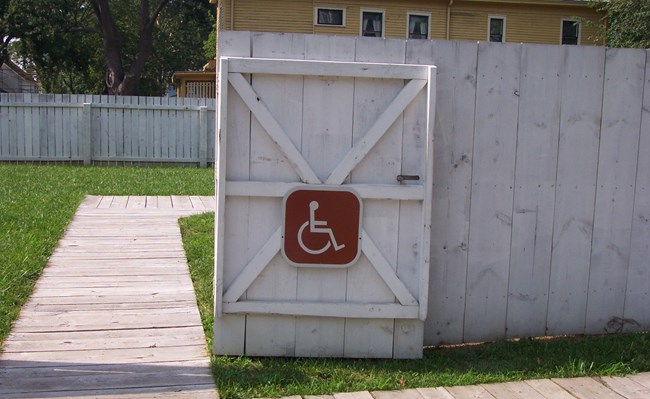 Arnold House
Entrances: Main entrance on northern side of building requires five steps to reach the door. Wheelchair-ramp accessible entrance is located on south side of building and is accessible by going through the white gate located just east of the Arnold House main entrance, on the southeast side of Jackson Street.
Exhibits

Benches (indoor)

No restrooms, water, or pay phone available
Last updated: May 29, 2022