Blind / Low Vision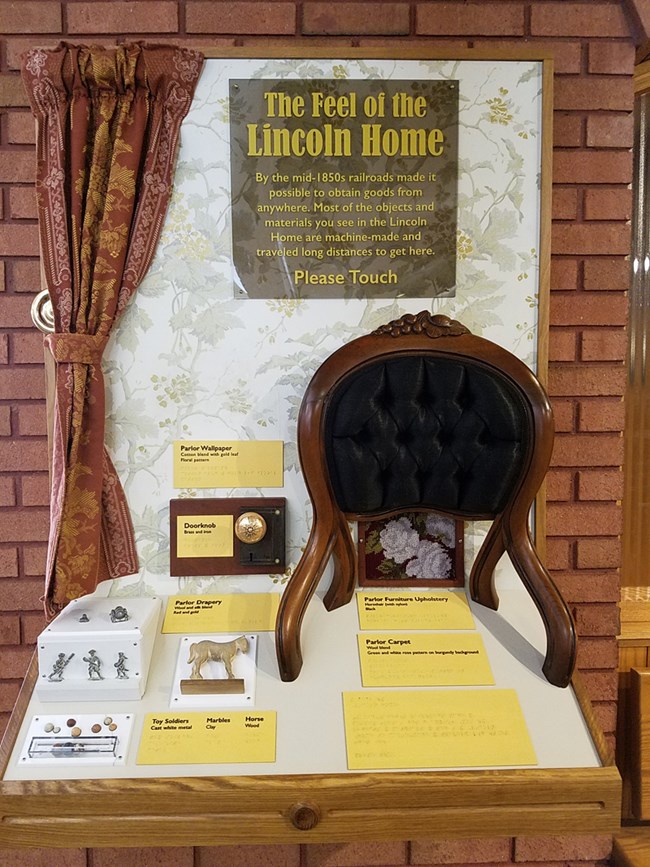 Programs
Visitor Center Tactile Exhibits
Located on the north side of the Visitor Center. Includes pieces and materials of the Lincoln Home, allowing one to get the feel of the Lincoln Home by touching the objects and materials that filled their rooms. Descriptions accompany the artifacts in English and in braille to help blind or visually impaired visitors have a sense of how the Lincoln's home appeared.
In addition, on the south side of the Visitor Center there is a reproduction of the Volk Mask, located next to the donation box in the Visitor Center. The Volk Mask reproduction is a life mask made of Abraham Lincoln's face and hands and can be touched.
Lincoln Home Tour Sensory/Tactile Book
A sensory/tactile book is available for checkout at the Visitor Center front desk for use during a Lincoln Home tour. The book contains materials and textures found in the Lincoln Home and are numbered with braille. During tour, ranger will mention materials or items in rooms which will coordinate with materials and textures in the tactile book.
Braille Materials
Braille copies of a written copy of the Lincoln Home tour and site unigrid are available for checkout upon request at the Visitor Center front desk.
Audio Described Park Film
Access to an audio-described versions of the park films which can be watched alongside the non-audio described version in the Visitor Center is available upon request at the Visitor Center front desk.
Outdoor Wayside Exhibit Audio Descriptions
Audio descriptions and narration of the outdoor wayside exhibits located around the site is available via the NPS Mobile App. The NPS Mobile app is available for iOS and Android through the App Store and Google Play by searching "National Park Service."
In the NPS Mobile App, under Lincoln Home National Historic Site, wayside audio description is built into the screen-reader functions of the "Lincoln Home Outdoor Wayside Exhibit Tour" self-guided tour.
Navigation
General Site Information
Lincoln Home National Historic Site is compromised of a relatively flat elevation 4 block square area with wide gravel streets and wooden boardwalks. Gravel streets and boardwalks can both be uneven, and boardwalks can get slippery when icy or wet. Curb between streets and boardwalks is a bit deep. There are no ramps at the main intersection of 8th and Jackson streets but are available at the end of each block.
Aware app
The Sensible Innovations Aware app provides wayfinding and turn-by-turn descriptive navigation instructions, available with audio narration, for Lincoln Home National Historic Site and the larger downtown Springfield area.
Visitors can download the Aware App for free from the Apple or Google Play store by searching "Sensible Innovations Aware". Using Bluetooth iBeacons, the app is able to sense the user's location and provide information and navigation instruction. Beacons are located at key buildings, entrances, and along the main streets at Lincoln Home National Historic Site as well as on Jefferson, Fifth, Edwards, and Seventh streets in downtown Springfield.
Last updated: September 3, 2021