Visiting in Fall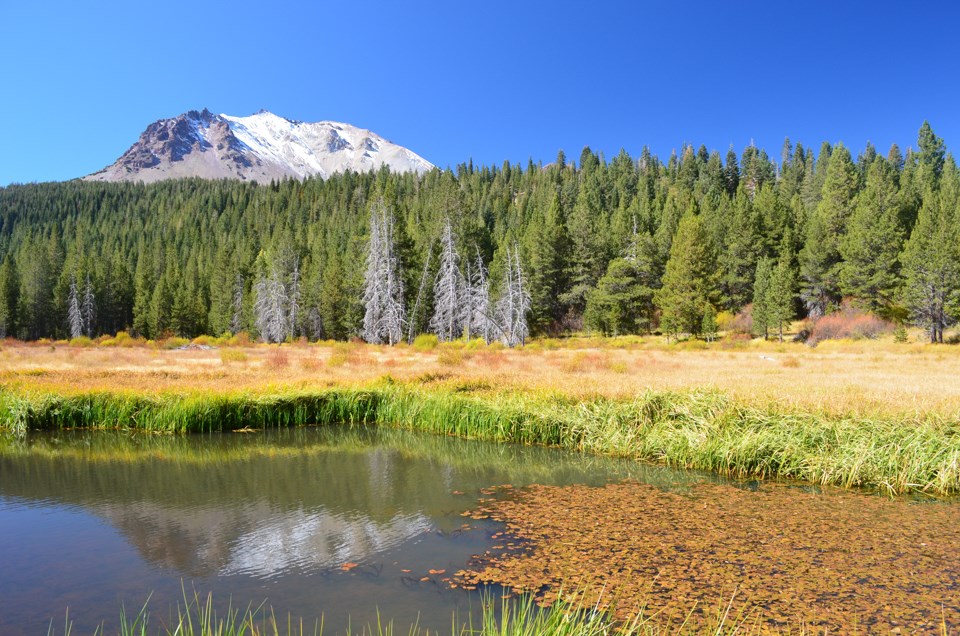 Plan a Fall Visit: October - November
Fall is a quiet, colorful season in the park. Temperatures slowly begin to drop, making for excellent hiking weather.
All areas of the park usually remain open through October and sometimes through November. Short-term closures, especially high-elevation portions of the park highway, may occur due to snow. The Manzanita Lake and Southwest Areas remain accessible by vehicle all year, however tire chains may be required depending on conditions. Check the status of roads in the park before your visit.
Most park campgrounds close between mid-September and early October for the winter season. Manzanita Lake Campground remains open until snow closure. The Southwest Campground is open year-round. The oversnow tent camping area is located at the southern end of the parking area. Overnight vehicles are permitted in the parking area.
The Kohm Yah-mah-ee Visitor Center is open 9 am to 5 pm year-round. The center is open daily May through October and Wednesday through Sunday November through April. The Loomis Museum closes for the winter in late-October.
Higher-elevation trails like Lassen Peak and Brokeoff Mountain can receive snowfall that can last for multiple days. Consider taking the Reach Higher Trail Challenge to earn a free commemorative bandana.
Fall Colors
Lassen is not known for having spectacular fall colors because most of the trees are evergreen. However, deciduous trees and shrubs including aspen, cottonwood, alder and some wildflowers like mule's ear and rabbitbrush tend change color between September and October. Known fall color spots include: Manzanita Lake, Hat Meadow, Devastated Area, and valleys in the Southwest Area.
Hazy or smoky conditions may occur during fall. This may be due to fires in the region or in the park. Lightning-caused fire occurs naturally in the Sierra Nevada. In some areas, the park may have prescribed fires to mimic natural fires to promote forest health and reduce the risk of larger fires.
Last updated: September 27, 2022