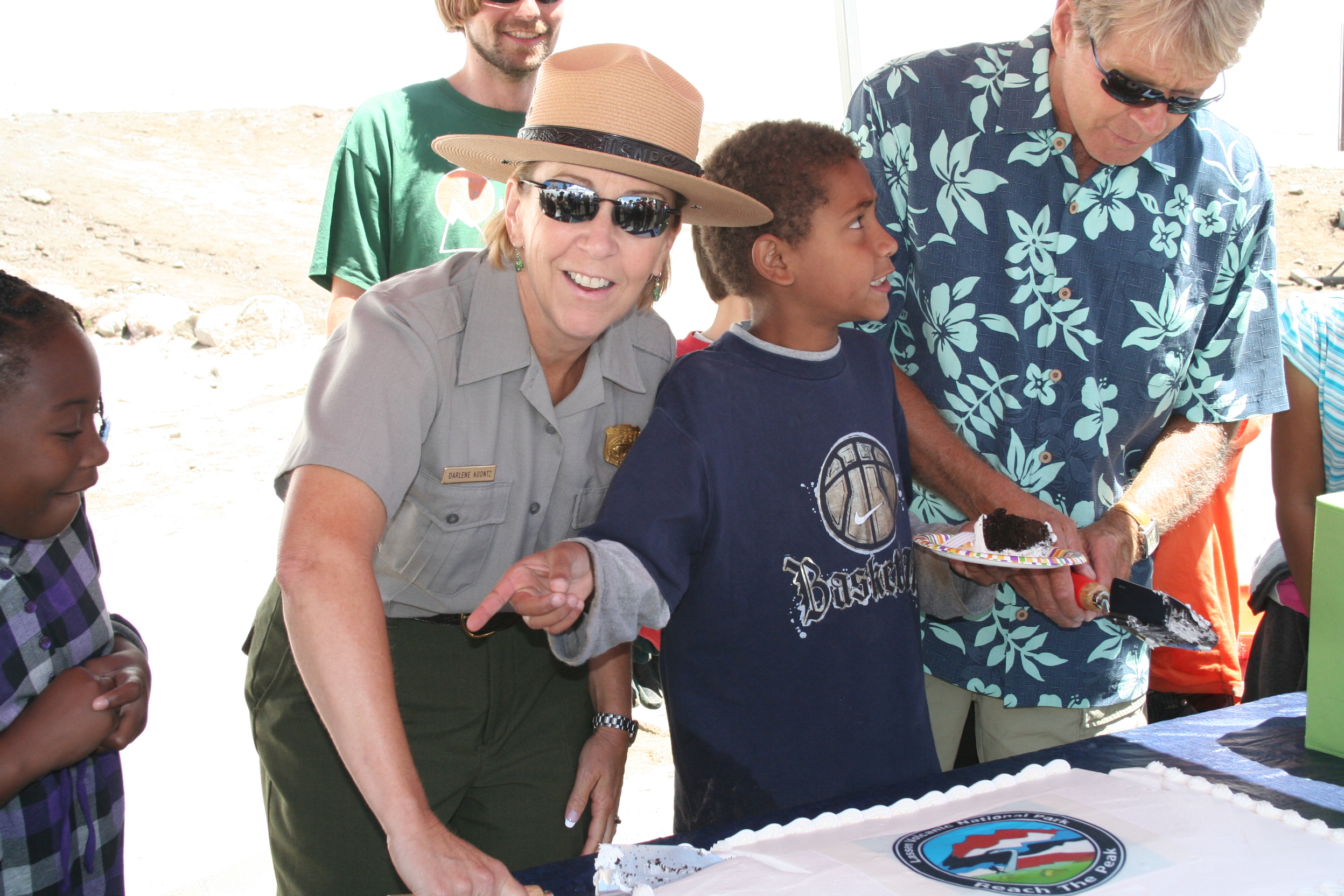 News Release Date:
July 19, 2010
Contact: Darlene M. Koontz, 530-595-4444 ext. 5101
Lassen Volcanic National Park and the Lassen Park Foundation hosted the 'Reach the Peak' kickoff event July 17 from 11 a.m. to 3 p.m. in the Lassen Peak parking area to celebrate the Lassen Peak Trail Rehabilitation Project.  "I want to thank everyone that made this event so successful.   Over two hundred visitors had the opportunity to view informational booths provided by the park and its partners, Lassen Park Foundation, Lassen Association, California Guest Services, and California Conservation Corps," stated Superintendent Darlene M. Koontz. "The Lassen Peak Trail was open to the summit for the kickoff and there was a steady stream of hikers on their way to the top," added Koontz. 
A presentation about the Lassen Peak Trail Rehabilitation Project was given by Superintendent Koontz, Lassen Park Foundation Chairman John Koeberer, Chief of Resources Management Louise Johnson, and Acting Chief of Maintenance David Harry. 
Koontz acknowledged the California Conservation Corps for their assistance with trail labor, the Lassen Association for their educational support and turned the microphone over to the Lassen Park Foundation. Koeberer discussed the partnership with the park and the Foundation's commitment to raise $500,000 for the project. Johnson and Harry covered the five-year project plan to widen sections of the trail, construct a new loop around the crater providing opportunities to interpret geology and scenery, and install a new evaporator toilet. The final step will be to construct a trail linking the Manzanita Creek Trail to the peak parking area and improve the Manzanita Creek trailhead parking.
Several park employees created a cake shaped like Lassen Peak. Following the presentation, Koontz and Koeberer were assisted using hand trowels in the symbolic cutting by children who looked forward to a piece of cake. 
Special interpretive programs were offered at 11 a.m., 1 p.m. and 2 p.m. Park Guide Nick Roll's program discussed what motivates visitors to undertake the 2,000-foot elevation climb up the historic trail, and about the significance of Lassen Peak and the project.
Trail accessibility information is available on the park website at: https://www.nps.gov/lavo/parkmgmt/current-lassen-peak-trail-status.htm . For additional information, visit the park website at www.nps.gov/lavo or call (530) 595-4480.