Lassen Volcanic National Park Highway is Blanketed with Snow for Winter Recreation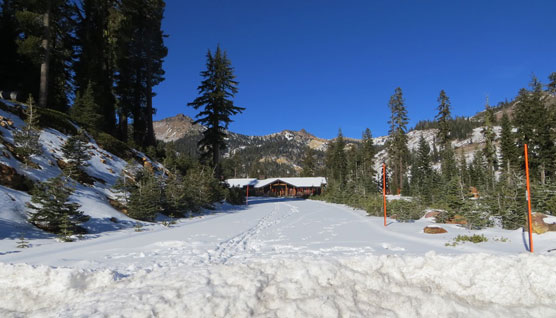 News Release Date:
December 18, 2013
Contact:
Darlene M. Koontz, 530-595-6102
Mineral, CA – The Winter Solstice is almost upon us and the scenic drive through Lassen Volcanic National Park is now officially closed for the season. "The highway is covered by a blanket of snow and the park has been transformed into a scenic winter wonderland," announced Park Superintendent Darlene M. Koontz. "The park is open throughout the winter and is a wonderful time of year to experience a different, quieter side of the park. Lassen Volcanic National Park offers unparalleled opportunities for winter recreation, including snow play, cross-country skiing and snowshoeing."
 
New this year, ranger-led snowshoe walks will be offered to the public on Saturdays and Sundays in the Manzanita Lake area beginning January 11 through March 23, weather permitting. Visitors should meet the ranger outside the Loomis Ranger Station at 1:00 pm and come prepared for a range of winter conditions. The snowshoe programs offered at Manzanita Lake will be an opportunity to experience the beauty of the park and take a unique look into the mysterious world of winter. The walks also provide participants with instruction on the proper techniques of snowshoeing and safety tips for winter mountain recreation. Programs are 1 ½ to 2 hours long and are open to individuals and families with children age eight and older. For safety reasons, infants and children in carriers are not permitted. Walks vary in route and distance depending on the group, weather, and snow conditions. Snowshoes are provided by the National Park Service for a suggested $1.00 donation for their use and maintenance. Please dress in layers for winter conditions and wear warm boots.
The Kohm Yah-mah-nee Visitor Center, with the exception of the vestibule and restrooms, is closed to the public through March 31. The road to the visitor center will remain open with limited parking available. The plowing of the road will occur following each storm period. Be aware the road will be closed during times of severe weather. Visitors planning a trip to Lassen should check the current road status before traveling to the park, and it is highly recommended that all visitors, especially backcountry travelers, are aware of the projected weather and potential avalanche conditions during their visit to the park. Carry tire chains in your vehicle from October through May, along with extra food, water, and blankets. 
 
The year-round entrance fee at Lassen Volcanic National Park is $10 per vehicle and is valid for seven days. The Annual Park Pass is available for $25 and is valid for a year from the month of purchase. Day use visitors need to sign in at the Loomis Ranger Station or at the Kohm Yah-mah-nee vestibule. Overnight visitors are required to obtain a wilderness permit before entering the backcountry.
 
To learn of park facilities, programs, trip planning, road status, receive updates, or check for current conditions, go to the park website at www.nps.gov/lavo, follow LassenNPS on Twitter or Facebook, or contact park staff at (530) 595-4480 from 9:00 a.m. to 5:00 p.m. Wednesday - Friday.