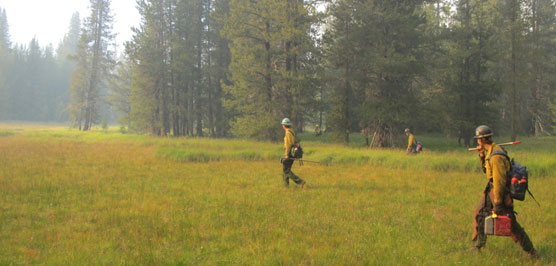 News Release Date:
August 7, 2012
Contact: Darlene Koontz, 530-595-6102
On July 23, thunderstorms produced numerous lightning strikes within Lassen Volcanic National Park. One of the strikes ignited a fire approximately one mile northeast of Paradise Meadows between the Terrace Lake and Paradise Meadows Trails. This fire, named the Reading Fire, is a naturally ignited wildfire that was being managed for ecosystem health, habitat improvement and wildlife enrichment. The fire crept and smoldered with intermittent areas of open flame and occasional individual and group tree torching until yesterday afternoon when winds picked up and shifted creating several hot spots across the park road. "Management of lightning-ignited fires enables managers to accomplish resource and ecological benefits within designated wilderness areas of the park," stated Superintendent Darlene M. Koontz. In consideration of weather forecasts and available resources management of this fire has now been converted to a suppression fire. At this time, the fire is approximately 1,500 acres and 10% contained. The NorCal Incident Management Team has arrived this afternoon and will be taking over suppression of the Reading fire at 6:00 p.m. this evening (August 7).

Park facilities and many trails remain open to the public. The main park road from the Devastated Area to Summit Lake Campground will be closed until Wednesday morning. Trail closures include:
Paradise Meadow Trail
Terrace, Cliff and Shadow Lakes Trail
Hat Lake In-holder Road from Hat Lake to northern park boundary
Twin and Cluster Lakes Loop Trail
Nobles Emigrant Trail from Painted Dunes to the northern park boundary
Pacific Crest Trail (PCT) from Lower Twin Lake to northern park boundary
Northbound PCT hikers will need to detour at Lower Twin Lake and follow the trail past Rainbow Lake to continue onto Butte Lake. From there hikers will access state highway 44W to Old Station where they can continue northbound on the PCT.
"When lightning ignites fires in the park, we consider the opportunity to use wildland fire for the benefit of forest ecosystems," said Park Superintendent Darlene M. Koontz. "The Reading Fire met all of the criteria to meet these objectives and was managed to achieve these benefits." This criterion balances public health and safety with benefit to the resource, and is re-assessed on a regular basis for continued management. Extensive planning is conducted to consider future growth of the fire depending on weather predictions, fuel moisture, smoke dispersal and availability of firefighters to manage growth. Lassen Volcanic National Park views the Reading Fire and its careful management as a much needed opportunity to reintroduce fire into the park's fire adapted ecosystems where it has been excluded for most of the last century. In these wilderness areas of the park, fire has routinely been suppressed, which has altered the ecosystem and resulted in an un-natural fuel accumulation. Restoring natural fire cycles within the park with the use of naturally ignited fires is vital to the health and protection of the park ecosystems for future generations.  

For more information, please contact the park at (530) 595-6102, Monday through Friday from 8:00 a.m. to 4:30 p.m. or visit the park website at www.nps.gov/lavo, on Twitter@LassenNPS, and on Facebook.