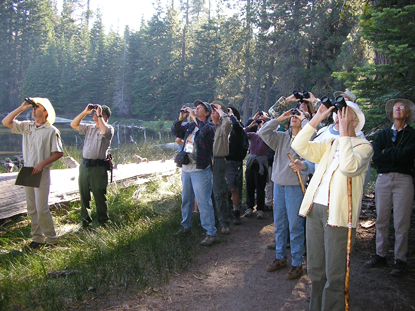 News Release Date:
June 20, 2011
Spring is upon us at Lassen Volcanic National Park and it's time to get outside and enjoy the beauty and wonders of the park. Visitors are now able to drive to several attractions within the park. The main park road is open to vehicles from Highway 44 to Devastated Area and will open on Saturday from Highway 36 to the Bumpass Hell parking area. The roads to Warner Valley and Butte Lake are open to visitors.
The Ranger-led programs at Lassen Volcanic National Park are kicking off the summer season starting on Friday, June 17 and will offer a wide variety of programs on the natural and cultural history of the park seven days a week through Labor Day weekend. There are programs for visitors of all ages. Become a junior ranger and explore the forest and lakes on a discovery walk. Go inside a volcano and learn about fumaroles, mud pots, and boiling springs. Meet pioneers and hear their amazing stories as they travel the Nobles wagon trail in 1853. Discover stars, planets and constellations at the Starry Night program. Kick back and have Coffee with a Ranger or go on a bird walk at Manzanita Lake. All these programs and more offer visitors a window of discovery into their national park. A program schedule of activities can be found on our park web site or in our summer newspaper available at many locations throughout the park.
The majority of the campgrounds in the park are already open and ready for overnight visitors. Manzanita Lake, Crags, Lost Creek, Warner Valley and Butte Lake campgrounds are now open to the public. Juniper Lake and Summit Lake campgrounds remain closed due to snow and are estimated to open in early July.
Visitors are encouraged to explore the park by foot, snow shoes or skis. "This is a unique opportunity for visitors to enjoy both the snow and the warm spring sun," stated Superintendent Darlene M. Koontz. Even though it feels like summer in the valley, visitors should still be prepared for possible cold and snowy conditions as mountain weather can change quickly. It is best to dress in layers so you may adjust for changing weather conditions and bring blankets, food, water, sunscreen and sunglasses.
For campground updates, current road and trail conditions, and further information, please visit the park website at www.nps.gov/lavo or contact the Kohm Yah-mah-nee Visitor Center (530) 595-4480 daily 9:00 a.m. to 6:00 p.m.