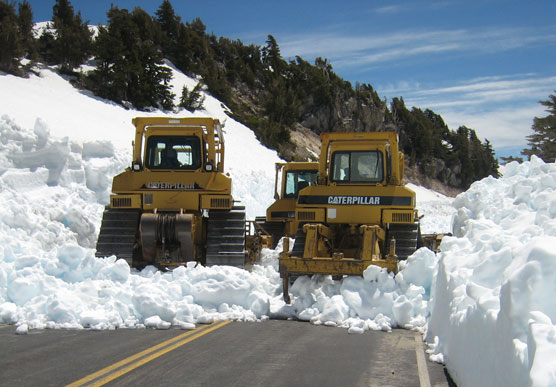 News Release Date:
April 29, 2011
Lassen Volcanic National Park's Road Opens to Devastated Area
The 2011 spring road opening has begun at Lassen Volcanic National Park announced Park Superintendent, Darlene M. Koontz.  A ten-mile section of the scenic road will open Saturday morning at 9 a.m. to vehicle traffic on the Manzanita Lake side of the park.  "The road to the Devastated Area provides excellent opportunities for visitors to snowshoe, cross-country ski, play in the snow, or to picnic against the backdrop of Lassen's spectacular views," stated Koontz.
Crews began the snow removal process at Manzanita Lake on April 5 and will move operations to the south side of the park next week. A snow cat, aided by global positioning system technology, marks the path of the road and is then followed by bulldozers and a rotary snow blower. Working in 10-hour shifts, it usually takes crews a total of two and a half months to clear the entire park road depending on the amount of snow. This year, the snow depth at the Lake Helen Snow Survey site measured 222 inches (18.5 feet) of snow, which is 136 percent of normal. There is approximately eight feet of snow currently on the ground at the Devastated Area.
The 30 miles of park roadway from Highway 44 junction to Highway 36 junction typically opens fully to the public by mid to late June, depending on weather conditions. Spring can still bring significant snowfall and the road may be closed for short time periods during lingering snowstorms.
Although weather in the valley is mild, visitors should still prepare for winter conditions by dressing in layers, bringing sunglasses, sunscreen, extra water, and food, as well as vehicle chains and blankets. Snow players and cross-country skiers need to stay clear of snowplows working in the park as equipment operators may be unable to see or hear them.
For more park information and road conditions call the Kohm Yah-mah-nee Visitor Center at (530) 595-4480, daily which is from 9 a.m. to 5 p.m. or visit www.nps.gov/lavo .