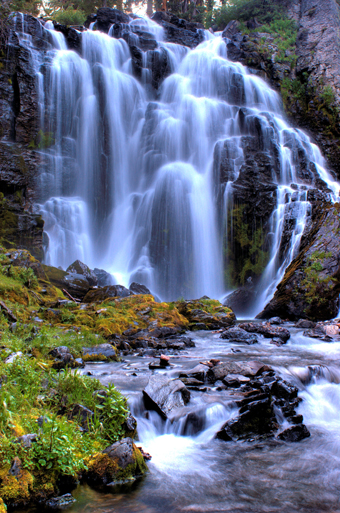 News Release Date:
October 24, 2007
Contact: Darlene Koontz, (530) 595-4444, ext. 5101
Lassen Volcanic National Park Announces Winner of the 2008 Annual Pass Photo Contest
Lassen Volcanic National Park Superintendent Darlene Koontz announced that the winning entry for the 2008 Lassen Annual Pass photo contest was submitted by Brian Rueb of Redding, CA. This magnificent photograph entitled, "Kings Creek Falls" showcases Lassen Volcanic National Park and its awesome scenery.
The Lassen Annual Pass photo contest is held annually and is open to the public. The winning photograph was selected by park employees and volunteers from over 60 submissions. Mr. Rueb will receive photo credit and a $50 gift certificate from the Lassen Association to use at one of the park bookstores, and his photo will be featured on the 2008 Lassen Annual Pass. To view the 2008 winning photo, please visit the park website at:
https://www.nps.gov/lavo/parknews/nr07_photo_winner.htm

The photo contest for the 2009 Lassen Annual Pass will run again next summer. Photographs may be submitted beginning June 15 and no later than September 3, 2008. For more information, please contact the fee office at (530) 595-4444, ext. 5103.
The $25 Lassen Annual Pass is valid for one year from the month of purchase and is also honored at Whiskeytown National Recreation Area. The 2008 pass will be available for purchase in the new year at park headquarters in Mineral, Monday through Friday and at the Entrance Stations on various weekends.
The Federal Lands and Recreation Enhancement Act allows Lassen National Park to collect and retain up to 80% of its fees. Since 1998, an estimated $800 million has been retained by the NPS to accomplish projects such as rehabilitating historical structures, improving trails and campgrounds, replacing aging water and sewer systems, providing new exhibits and interpretive signs, providing accessibility to visitors with disabilities, and protecting natural and cultural resources.
For more information, please contact the park at (530) 595-4444 or for TDD at (530)595-3480, Monday through Friday, except holidays, from 8:00 a.m. to 4:30 p.m. or visit the park website at www.nps.gov/lavo. -NPS-