Superintendent Appointed For Lassen Volcanic National Park
Date:
August 17, 2007
Contact:
Holly Bundock, Public Affairs Officer, 510-817-1320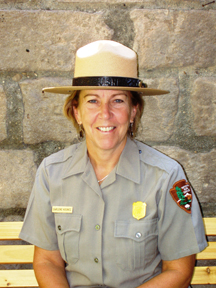 SUPERINTENDENT APPOINTED FOR LASSEN NATIONAL PARK
Darlene Koontz has been selected as the next superintendent of Lassen Volcanic National Park in northern California, it was announced today by National Park Service (NPS) Pacific West Regional Director Jonathan B. Jarvis.
Koontz is expected to begin her leadership role at Lassen in early October. She replaces Mary Martin who recently retired.
"I am impressed with Darlene's broad experience," Jarvis said in making the appointment. "She gets high marks for working with communities and partners, for supporting her staff, and for solving complex issues."
Koontz will be moving from Bandelier National Monument in New Mexico where she has been the superintendent for the past four years. Best known for mesas, sheer-walled canyons, and several thousand ancestral Pueblo dwellings found among them, Bandelier also includes over 23,000 acres of designated Wilderness. Archeological sites in Frijoles Canyon were inhabited from the 1100s into the mid-1500s, and earlier groups had used the area for thousands of years.
As superintendent at Bandelier, she led efforts in planning for a major visitor center renovation, completed the park's Fire Management Plan, reestablished the prescribed fire program, and opened a major unit of the park for public access.
Prior to moving to Bandelier, Koontz served as an NPS Bevinetto Fellow in Washington, D.C. In that position she was assigned to the subcommittee on National Parks, Historic Preservation and Recreation and the NPS Legislative and Congressional Affairs office where she was involved in reviewing, analyzing, and drafting bureau legislation.
Koontz, a 27-year veteran of the NPS, has served around the country in places such as Everglades National Park in south Florida as a backcountry ranger, Cumberland Island National Seashore off the coast of Georgia in interpretation and visitor services, as superintendent at Grant Kohrs Ranch in Montana, and as an instructor at the Federal Law Enforcement Training Center in Brunswick, Georgia.
"There are many things I like about being a superintendent of a National Park, one being the opportunity to meet and work with local communities, the park Friends group, other agencies and park employees. I'm also excited about working with the staff and the opening of the new visitor center," Koontz said.
She is a graduate of North Carolina State University with a forestry degree. She and her husband, Chip Davis, who works for the NPS Washington Office of Law Enforcement and Emergency Services, are looking forward to moving to Northern California and exploring this area.
Editor's Note: Koontz can be reached for interviews at Bandelier National Monument at 505-672-3861, ext 501, until the end of September.
Last updated: February 28, 2015