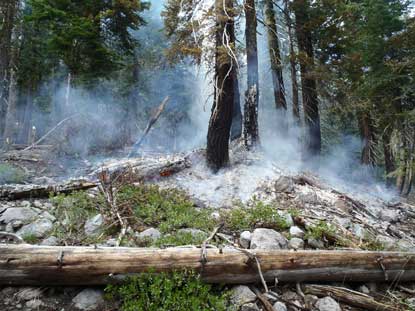 News Release Date:
September 16, 2011
Lightning Strikes Ignite Five Small Fires within Lassen Volcanic National Park
The recent stormy weather brought with it an estimated 70 lightning strikes within the boundaries of Lassen Volcanic National Park. The lightning strikes ignited five small fires, two have been suppressed and three are currently being monitored by fire personnel. "Fire is extremely important for maintaining forest health and habitat diversity" stated Superintendent Darlene M. Koontz.
The five fires currently burning in the park are small, none of which are greater than a quarter acre in size. The locations of the fires are as follows: the Brokeoff Fire south of Ridge Lakes and north of Forest Lake, the Raker Fire on top of Raker Peak, the Pilot Fire on the south ridge of Raker Peak 1/10 of a mile off the main park road, the Summit Fire 1.5 miles Southwest of Summit Lake and the Peak Fire on the northwest side of Lassen Peak.
Each fire was assessed for its threat to improvements and potential to meet resource objectives. "When lightning ignites fires in the park, they are evaluated as candidates to manage for benefit of the natural resources in forest ecosystems." said Superintendent Koontz. The decision criterion balances public safety with benefits to the resource. The park will allow natural fires to burn when appropriate for the restoration of fire adaptive ecosystems and for specific resource management goals.
Fire personnel from Whiskeytown National Recreation Area assisted the park with monitoring the fires within Lassen Volcanic National Park. "Cooperation and collaboration with other National Park Service areas and our USFS neighbors is essential in order to accomplish our fire management goals," added Superintendent Koontz. "We will continue to manage these fires as long as necessary to meet the parks fire management objectives while providing for public safety."
Historically fire has routinely been suppressed in the wilderness which has altered the ecosystem and resulted in hazardous fuel buildups. Restoring a natural fire cycle within the park by managing these fires is vital to the long term health and preservation of these forest ecosystems.
Currently, all park trails and facilities are open. For more information, please contact the Kohm Yah-mah-nee Visitor Center at (530) 595-4480 daily from 9 a.m. to 6 p.m.