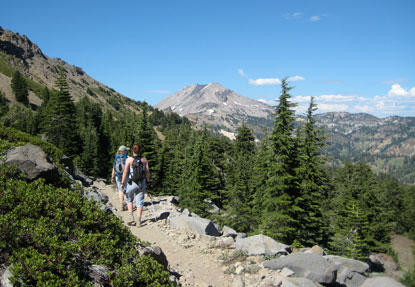 News Release Date:
June 29, 2011
Lassen Volcanic National Park
This week's National Park Getaway
MINERAL, Calif. – Gray and buff-colored mountainsides slope downward, occasionally interrupted by milky patches of snow and often scored by conical evergreens. In quasi-infernal realms, steam rises from rock-strewn ground, and pools of bubbling mud hiss and belch. In still other regions, lush fields and clear waters spread forth, accented by yellow and purple wildflowers.
The panorama encompassing these varied landscapes could be the setting of an epic or, alternatively, your next vacation. The heterogeneous terrain presents challenges as well as beauty. While park visitors will never be called upon to perform Homeric or Virgilian feats of daring, you're sure to have an agreeable adventure – perhaps just the visual adventure of seeing mountains, meadows, and hydrothermal features – at Lassen Volcanic National Park, the destination highlighted this week in the National Park Getaway series of travel articles.
Check out this week's installment at www.nps.gov/getaways to learn about activities to try and sights not to miss as you make your own odyssey through the park. Look to the upper right of the same page to access an archive of the more than 100 previous articles in the Getaway series. Each Getaway spot can factor into a quest to discover the natural, historical, and cultural riches of the United States. This pursuit in turn could carry you to all 394 national parks, none of which, we assure you, harbors cannibals, sirens, or Cyclopes.