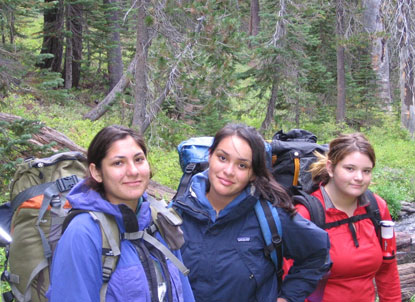 News Release Date:
July 11, 2011
Lassen Volcanic National Park Awarded America's Best Idea Grant
Nineteen national parks receive grants from the National Park Foundation to support interactive and engaging projects that will strengthen Americans' connection with their national parks
Mineral, CA (July, 2011) – The National Park Foundation announced that it is proud to award Lassen Volcanic National Park a grant to support the launch of "Packs for Adventure-seeking Youth at Lassen Volcanic National Park," its new innovative project that provides youth camping groups daypacks filled with equipment and materials to participate in programs designed to enhance their national park experience and to produce photos and videos about their visit. The grant is part of the National Park Foundation's America's Best Idea, a nationwide program which connects underserved and under-engaged populations throughout the United States with their national parks in innovative and meaningful ways.
"It is an honor to receive this grant because it will support our efforts to connect kids to the park," said Darlene M. Koontz, Park Superintendent. "With this project, we will expand and enhance our youth camping program with new equipment and materials to help these children learn and experience the resources of Lassen Volcanic National Park."
As part of a larger project to provide a youth camp at Lassen Volcanic National Park, this project with the National Park Foundation has made possible the development of "adventure daypacks" that contain program support materials and equipment for rangers to lead groups of children on hikes to read the volcanic landscape, discover the life of lakes, trees, ponds and logs, and see diverse and beautiful places in the park. For many of these youths, these camping trips are the first time to camp or visit a national park. The youth camping program at Lassen has been supported through grants awarded to groups for transportation and supplies by our local Lassen Park Foundation for the past 15 years. Plans are to develop a designated youth camp with tent cabins, cooking shelters, and group campfire circles in addition to traditional campsites.
"We must create opportunities for all Americans to have access to and enjoy their national parks," said Neil Mulholland, President and CEO of the National Park Foundation. "With these grants we're connecting more and more people to the parks, while building and strengthening long-lasting support, appreciation and commitment to protecting 'America's Best Idea'."
Inspired by the epic Ken Burns documentary The National Parks: America's Best Idea, the National Park Foundation, in partnership with Lowe's Charitable and Educational Foundation, the Anschutz Foundation and the Ahmanson Foundation, awarded America's Best Idea grants to 19 national parks across the country.
A full list of grantees and project descriptions will be available on the National Park Foundation website.
About Lassen Volcanic National Park
Established on August 9, 1916, Lassen Volcanic National Park lies in the southernmost extension of the Cascades, and is a land of volcanic mountains peppered with many lakes. Covering more than 160 square miles, the park contains Lassen Peak and an impressive inventory of remarkable volcanic features. Evergreen forests clothe the slopes of older volcanoes and are rapidly covering the scars of recent activity.
About the National Park Foundation
You are the owner of 84 million acres of the world's most treasured landscapes, ecosystems, and historic sites -- all protected in America's nearly 400 national parks. Chartered by Congress, the National Park Foundation is the official charity of America's national parks. We work hand in hand with the National Park Service to connect you and all Americans to the parks, and to make sure that they are preserved for the generations who will follow. 
Contacts:
Karen Haner, Lassen Volcanic National Park karen_haner@nps.gov, (530) 595-6130
Alanna Sobel, National Park Foundation, asobel@nationalparks.org, (202) 354-6480