Dixie Fire Q&As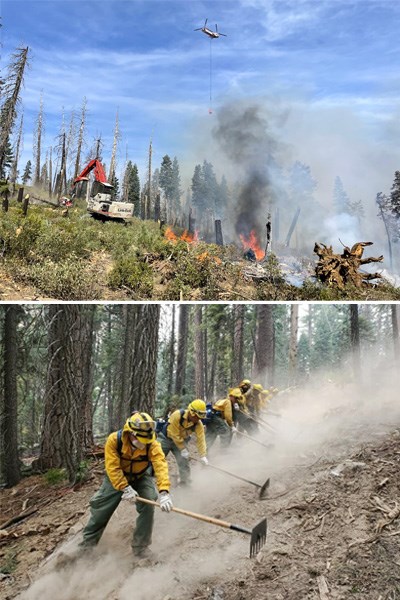 When and how did the Dixie Fire start?
The Dixie Fire started on July 13, 2021 in a portion of Feather River canyon 35 miles southwest of Lassen Volcanic National Park. The cause of the fire remains under investigation. Driven by winds and steep topography, the fire moved north and northeast and entered the southeast corner of Lassen Volcanic on August 5. On August 12, a lightning strike ignited a separate fire on Morgan Summit near the park's Southwest Entrance and later merged with the Dixie Fire to the northeast. The Dixie Fire reached 100% containment on 10/26 and impacted 963,309 acres including 73,240 acres in the park (69%).
How did the firefighters suppress the Dixie Fire within the park?
An interagency Incident Management Team (IMT) coordinated firefighting actions to suppress the Dixie Fire from both the air and ground. Lassen Volcanic joined CAL FIRE and the U.S. Forest Service in Unified Command of the IMT when the Dixie Fire entered the park on August 5. The park superintendent authorized all firefighting tactical requests made by the IMT. This included the following actions when necessary: retardant use, air operations, hand and dozer line construction, heavy equipment use, chainsaw use in Wilderness, and burnout operations. Park firefighters were assigned to the Dixie Fire and supported operations within the park.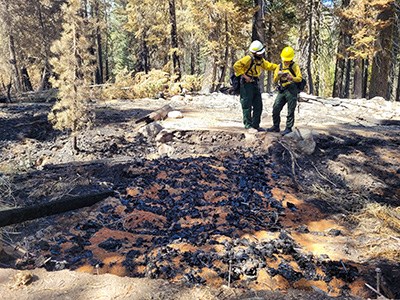 Why Is It Important to Stay out of Closed Areas?
Staying out of burned areas reduces the risk to yourself, first responders, and park resources. Areas burned by wildlife are dangerous and include numerous hazards including falling trees and limbs, hidden stump holes, loose or falling rock, and unsafe water crossings. Entering these areas endangers yourself and the first responders who may have to assist you. Park resources impacted by the fire need time to recover. Your footsteps can hinder vegetation regrowth, increase risk of erosion, and introduce invasive species that compete with recovering native plants. Heavy equipment and fire vehicles are operating throughout the additional post-fire repair closure area. Stay Out & Stay Safe: your choices protect yourself and your park.
When Will Closed Trails Re-open?
Trails in areas on the eastern side of the park will remain closed through at least the 2021-2022 snow season. An initial assessment completed by a park Burned Area Emergency Response (BAER) Team determined that 113 of 167 miles of park trails are within the fire perimeter. The park has initiated planning for long-term trail repair to remove hazard and fallen trees, rebuild burned bridges and boardwalks, and eliminate other hazards such as stump holes and rockfall. Park staff will re-evaluate trail conditions in early summer 2022 and prioritize repair efforts to restore access to closed trails.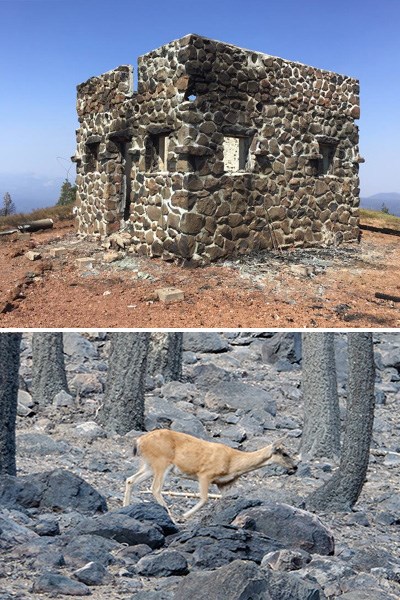 Which Structures in the Park Were Damaged?
High-severity fire activity in the southeast portion of the park resulted in the loss or damage of 12 park structures. This includes 2 bungalow units, the annex and a water plant at Drakesbad Guest Ranch in Warner Valley. The majority of structures at the Ranch including the historic lodge and dining hall remain intact. In the Juniper Lake Area, 7 of 8 cabins on the north shore of Juniper Lake, including 1 park-owned cabin were destroyed. The wooden portions of the historic Mt. Harkness Fire Lookout were destroyed and the stone base was damaged. While significant, structure loss within the park was limited in part due to previous fire management efforts including fuel reduction and prescribed burn projects.
How Did the Dixie Fire Affect Park Wildlife?
Many smaller animals including squirrels and pika burrow into the ground or rock outcrops. Larger animals are usually able to walk or run away from active fire. Firefighters reported numerous sightings of deer, bear, and even a mountain lion moving west away from the fire. Park wildlife is adapted to periodic wildfire similar to the way they are adapted to Lassen Volcanic's long snowy winters. Animals including the rare Sierra Nevada red fox are already foraging in burned areas.
How Were Park Staff Affected?
Some park staff and partners were evacuated from their homes in Greenville and Chester before the Dixie Fire entered the park. Later, numerous employees and partners evacuated their homes and workplace in Mineral and continued to work from a temporary office in Redding. All evacuations have since been lifted and park staff and partners have been able to return to their homes and offices.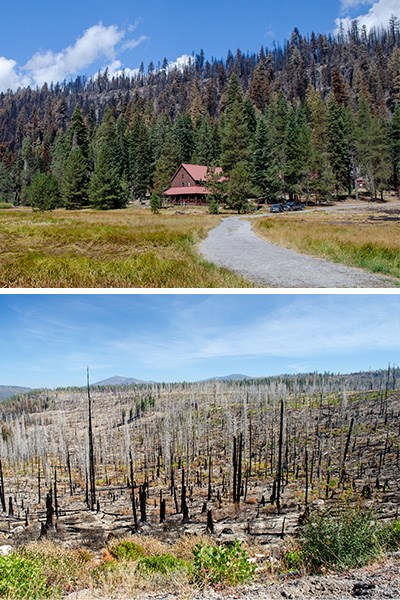 How Did the Dixie Fire Affect Trees and Plants in the Park?
An initial aerial assessment shows that the majority of park vegetation within the fire footprint burned at low to moderate severity. Vegetation in the southern portions of the park including Warner Valley and Juniper Lake experienced more high-severity impacts. Most of the Dixie Fire footprint reflects a mosaic of burned and unburned vegetation. Some areas of the park including Mill Creek drainage and Conard Mountain show the dramatic effects of high-intensity fire. Impacts are more subtle in other areas including Kings Creek, Summit Lake and Butte Lake.
How Long Will It Take for Park Vegetation to Recover?
Wildfire is a natural part of park ecosystems and most areas will recover naturally. The duration of recovery depends on the type of forest, how favorable the site conditions were (e.g., soil quality and moisture), how many times it has burned, and how hot the fire was. Understory plants such as grasses, forbs and shrubs will begin to occupy most burned areas immediately from buried seeds that were scarified by the fire, seeds blown in from nearby plants in unburned areas or sprouting of roots that survive the fire. Certain trees species including lodgepole pine and aspen are adapted to regenerate very quickly after fire. Other species such as red and white fir may reoccupy burned areas over a period of one to several decades depending on fire severity.
How Does the Dixie Fire Compare to Previous Fires within the Park?
The Dixie Fire impacted 73,240 acres in the park and is by far the largest fire in park history. The 2012 Reading Fire burned 16,993 acres in the park and a total of 28,079 acres including Forest Service and private lands. Recorded fire history in the park dates back to 1911 and includes numerous wildfires and prescribed fires of which a few exceeded 1,000 acres. Prior to the park's establishment, Native American tribes used small fires to encourage growth of certain plants.
Last updated: November 12, 2021