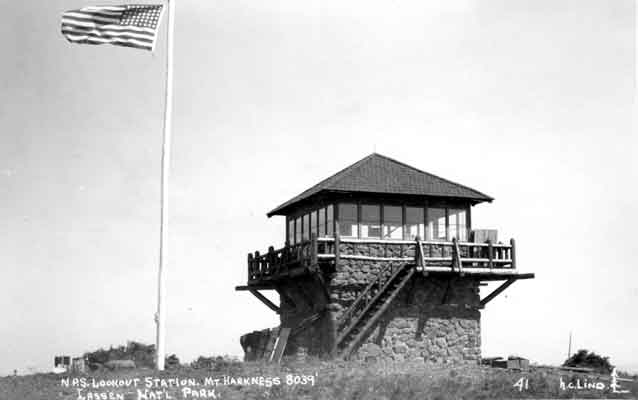 Quick Facts
Location:

Mt. Harkness, Lassen Volcanic National Park

Significance:

Historic Fire Lookout

Designation:

National Historic Lookout Register

OPEN TO PUBLIC:

Yes
Built in 1931, Lassen Volcanic National Park's Mt. Harkness fire lookout is a classic rustic NPS design with a 15'x15' cab with log catwalk and railings is atop a 15' stone tower with stairs of split logs.
Appropriations of $3,300 were first made for the look out in 1929 for 'fire protection and study of volcanic activities.' A year later the Report to the Director of the National Park Service made the following reports:
"A six mile long telephone line connected the newly newly constructed Harkness lookout station with headquarters." 

A fire-lookout station constructed during the season on top of Mount Harkness in Lassen Volcanic National Park is among the finest and best equipped in northern California. In addition to the usual maps and compasses, it contains an Osborne fire finder and a panoramic photograph mounted so that the location of the fire will be shown simultaneously on the photograph and the map when detected by the fire finder. This station serves a triple purpose. In addition to its importance in the fire prevention program of Lassen, it affords visitors, who may easily reach it by trail, an opportunity to view the country through powerful glasses, and it also contains a seismograph, which, in connection with two others, hourly records the slightest quivers of the earth."
The National Park Service fire lookout at the top of Mt. Harkness is still staffed during the summer and visitors can still
hike to it.
The lookout is at 7,985 feet on Mt. Harkness.