Boating
August 5, 2020
Kettle Falls, Fort Spokane, and Spring Canyon campgrounds reopened, by reservation only, on July 1, 2020. The boat-in campgrounds also opened on the same day. Boat-in campgrounds are still available on a first come, first served basis. All other campgrounds and other facilities at Lake Roosevelt National Recreation Area will remain closed until further notice.

While three of the five counties (Lincoln, Stevens, Ferry, Grant, and Okanogan counties) have entered Phase 3 of the Washington State Safe Restart plan, Lake Roosevelt follows the lowest phase of any of the eight counties (the five adjacent to the park plus Spokane, King, and Snohomish counties) that provide the majority of the visitors to Lake Roosevelt National Recreation Area. Five of these counties are still in Phase 2.
Lake Roosevelt National Recreation Area is a magnet for visitors from outside the five counties that border the Lake. According to a visitor survey conducted in 2016 (https://www.nps.gov/laro/getinvolved/planning.htm), 94% of our visitors come from throughout Washington State. With an average annual visitation of 1.3 million people a year, approximately 1 million of those visitors come between April and September each year. Of those visitors, 500,000 people come from three Washington State counties: Spokane, King, and Snohomish. Opening camping encourages people from high COVID19 areas to travel to low COVID19 areas despite current Washington State guidance. We are supporting Washington State's phased opening to help protect the small communities surrounding Lake Roosevelt.

The CDC and Washington State Parks and Recreation offers guidance to help people recreating in parks and open spaces prevent the spread of infectious diseases. Please help us protect the park and surrounding communities during this time by following local health orders and the Washington State Safe Start plan, practice Leave No Trace principles and avoid crowding and high-risk outdoor activities.
Guidelines for Responsible Recreation in The Outdoors
Before you go
Check what's open. While phase 2 may open many state and county-managed lands for day use, other local, tribal and federal lands are still closed.

Take day trips close to home. Overnight stays are not permitted.

Recreate with immediate household members only. Recreation with those outside of your household creates new avenues for virus transmission.

Come prepared. Restroom facilities are closed and will be limited when they reopen. We recommend that you bring your own outdoor toilet option (marine sanitation device for your boat or something like a Luggable Loo, WAG Bag, Biffy Bag, etc. for day-use areas)

,

soap, water, hand sanitizer and toilet paper, as well as a mask or bandana to cover your nose and mouth.

Enjoy the outdoors when healthy. If you have symptoms of fever, coughing or shortness of breath, save your outdoor adventure for another day.
When you get there
Avoid crowds. Have an alternate location in mind. Be prepared to go somewhere else or come back another time if your destination looks crowded.

Park in designated parking spaces only. If the parking lot is full, it is too crowded.

Practice physical distancing. Keep six feet between you and those outside your immediate household. Launch one boat at a time to give others enough space to launch safely. Leave at least one parking space between your vehicle and the vehicle next to you. Trailer your boat in the same way.

Wash your hands often. Keep up on personal hygiene and bring your own water, soap and hand sanitizer with you. Bring your own outdoor toilet option (marine sanitation device for your boat or something like a Luggable Loo, WAG Bag, Biffy Bag, etc. for day-use areas)

,

soap, water, hand sanitizer and toilet paper with you.

If you pack it in, pack it out. If you bring it, take it home with you, including human waste and waste disposal bags, disposable gloves, and masks.

Be kind and respectful to our rangers, park aides and other field staff.
Help Us Prevent Aquatic Invasive Species
Help us prevent the introduction of aquatic invasive species by completing the mussel-free self-certification form on our Aquatic Invasive Species page before you launch. If your boat has been in waters with confirmed or suspected AIS (such as Lake Mead, Mohave, or Powell) within the last 30 days please call the Washington Department of Fish and Wildlife AIS Hotline at 1-888-WDFD-AIS.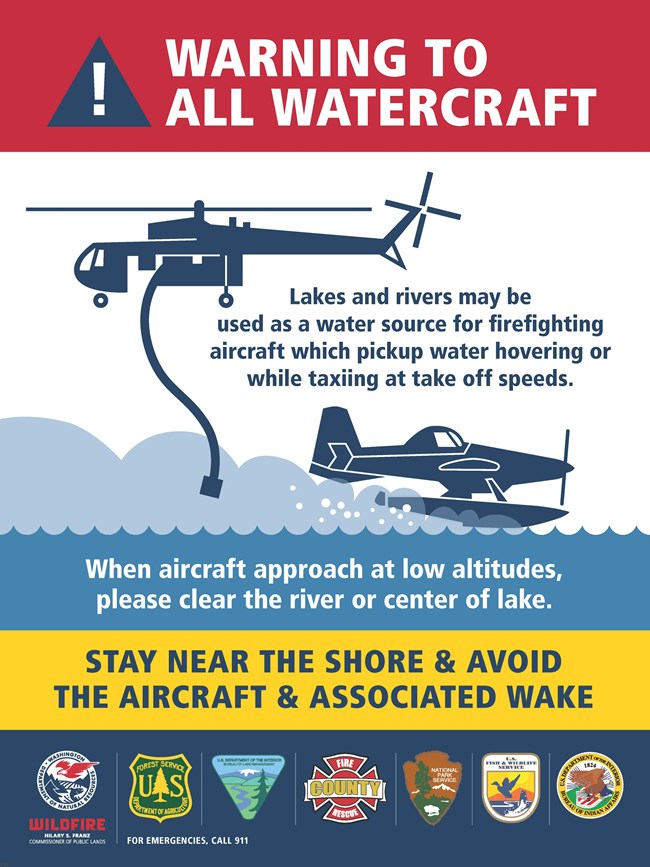 Do you know what to do...?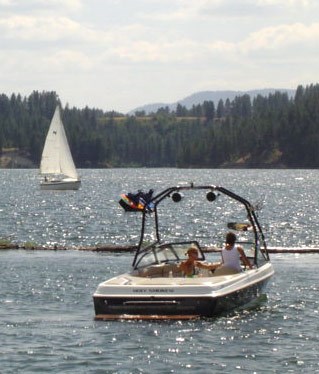 Enjoy the Lake
Our 22 public boat launches offer a wide variety of opportunities for every type of watercraft from canoes to motorboats. Please remember that Lake Roosevelt is a manmade reservoir. Seasonal fluctuations regularly affect lake levels and access to boat launch facilities. Check the current lake levels or call the Bureau of Reclamation at (800) 824-4916 before you visit. Minimum boat launch elevations at Lake Roosevelt are listed below. Make sure you know where you are at all times. Update your gps with appropriate maps, purchase navigational charts from one of our bookstore, or call (509) 754-7893 to order by phone.
Boat Launch Fees
Boat Launch permits are required year-round at all Lake Roosevelt's National Park Service boat launches, regardless of boat type.
Daily Pass
$8.00 for 7 consecutive days from date of purchase
$4.00 with eligible America the Beautiful Senior or Access Pass or Golden Age or Golden Acees Pass holder. Only good for one boat.
Available at each boat launch
Payment: Cash (US Funds), check, or credit card through your smart phone or home computer
Annual Launch Permit
$45.00
Good from purchase date until December 31st of the year printed on the permit.
Can be purchased in person at one of the locations listed on our Fees & Passes page.
You can also purchase our Annual Boat Launch Permits online. Please allow at least seven business days to receive your permit(s). The permit(s) will be mailed to you.
Other Information
Still have questions about boating at Lake Roosevelt? Try one of these links.
Minimum Boat Launch Elevations
| | | | | | | | |
| --- | --- | --- | --- | --- | --- | --- | --- |
| Hawk Creek | 1281' | | Crescent Bay | 1265' | | Porcupine Bay | 1243' |
| Marcus Island | 1281' | | Daisy | 1265' | | Kettle Falls | 1234' |
| Evans | 1280' | | French Rocks | 1265' | | Hunters Camp | 1232' |
| North Gorge | 1280' | | Hansen Harbor | 1253' | | Keller Ferry | 1229' |
| Napoleon Bridge | 1280' | | Bradbury Beach | 1251' | | Seven Bays | 1227' |
| Snag Cove | 1277' | | Gifford | 1249' | | Spring Canyon | 1222' |
| China Bend | 1277' | | Fort Spokane | 1247' | | | |
| Jones Bay | 1268' | | Lincoln Mill | 1245' | | | |
Boating Regulations
Boaters at Lake Roosevelt National Recreation Area must follow the Code of Federal Regulations, Washington State boating regulations and regulations in the Park Compendium.
Download the appropriate checklist(s) to see what you need to boat safely on Lake Roosevelt.
| | |
| --- | --- |
| (Canoes, Kayaks, etc.) | (16 feet to 26 feet in length) |
| (PWC) | (26 feet to 40 feet in length) |
| (less than 16 feet in length) | (40 feet to less than 65 feet in length) |
Staying Safe in and Around Water!
Your safety is important to us. Please help us by learning how to be safe in and around water. Knowing how to swim is just the beginning.
4 Main Causes of Drowning

Using alcohol and/or drugs

10 Rules to LIVE by…

Reach, Throw, Row…Don't Go

Learn the Boating Rules of the Road

Alcohol, Drugs, and Boating Don't Mix

Keep our Waterways Clean. Don't Pollute.

Rules courtesy of California Department of Boating and Waterways.
For more information on Drowning Prevention, check out the Inland Northwest Drowning Prevention Coalition.


Last updated: August 5, 2020