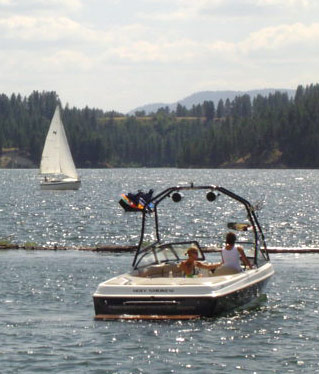 Enjoy the Lake
Our 22 public boat launches offer a wide variety of opportunities for every type of watercraft from canoes to motorboats. Please remember that Lake Roosevelt is a manmade reservoir. Seasonal fluctuations regularly affect lake levels and access to boat launch facilities. Check the current lake levels or call the Bureau of Reclamation at (800) 824-4916 before you visit. Minimum boat launch elevations at Lake Roosevelt are listed below. Make sure you know where you are at all times. Update your gps with appropriate maps, purchase navigational charts from one of our bookstore, or call (509) 754-7893 to order by phone.
Boat Launch Fees
Boat Launch permits are required year-round at all Lake Roosevelt's National Park Service boat launches, regardless of boat type.
Daily Pass
$8.00 for 7 consecutive days
$4.00 with eligible America the Beautiful Senior or Access Pass or Golden Age or Golden Acees Pass holder. Only good for one boat.
Available at each boat launch
Payment: Cash or check
Annual Launch Permit
$45.00
Good from purchase date until December 31st of the same year.
Payment by cash, check or credit card.
See our Fees and Regulations page for information on where you can purchase your Annual Boat Launch permit.
You can also purchase our Annual Boat Launch Permits online. Please allow at least seven business days to receive your permit(s). The permit(s) will be mailed to you.
Other Information
Still have questions about boating at Lake Roosevelt? Try one of these links.