Canoe and Kayak
May 13, 2021
Spend a night under the stars at Lake Roosevelt. Group and developed campgrounds are reservation only. Primitive boat-in campsites are available on a first-come, first-served basis. Amenities and fees vary throughout the year, so please check our Fees page for the latest updates before the traveling to the area. Park operations continue to adapt to changing conditions while maintaining public access, particularly outdoor spaces. Additional facilities will reopen as we have the capacity to properly care for them under Centers for Disease Control and Prevention (CDC) and National Park Service (NPS) public health guidelines.

The National Park Service continues to closely monitor and respond to the COVID-19 pandemic. We encourage you to follow guidance from the Centers for Disease Control and Prevention (CDC), Washington State and local officials to recreate responsibly at Lake Roosevelt.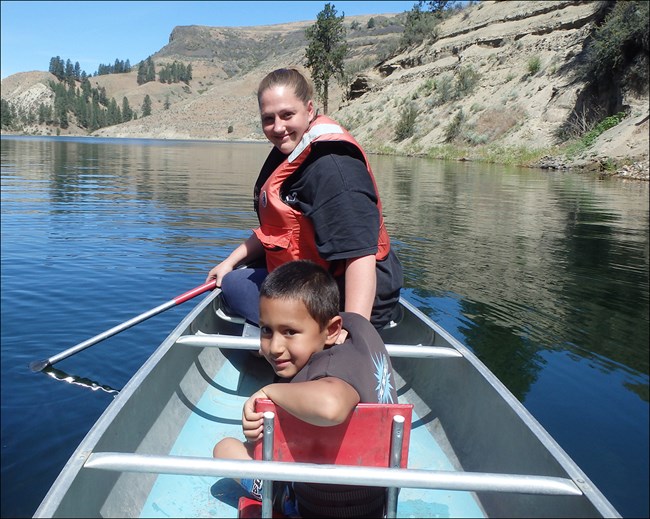 Planning a canoe trip?
We have boat in campgrounds as well as miles of shoreline waiting to be explored. Looking for more challenging routes? Want a multi-nite camping adventure? There are many options for put-ins and take-outs along the way, with camping and boat ramps nearby.








What canoe routes and camping areas would you suggest for a party of 10 to get in 50 miles of canoeing in 4 days?
North End of Lake Roosevelt
Bradbury Beach Day-Use Area/Boat Launch to Fort Spokane Campground/Boat Launch. Both have parking lots and toilets. You have to carry your own water to Bradbury.
South End of Lake Roosevelt
Hunters Campground/Boat Launch to Keller Ferry Campground/Boat Launch. Both have parking lots and toilets. It is a harder route due to the higher volume of boat use in the southern part of the lake.
Purchase a launch permit at the boat launch if you plan on using it to put in your canoes. They are good for 7 consecutive days.
Where is a good place to park our canoe trailer/van and an extra car at the beginning and end of our route? Is there any risk of cars/equipment being damaged while we are on the lake?
All four of the locations listed above have parking lots. There is always risk to cars and equipment no matter where you go. We highly recommend filing a float plan with us including good descriptions of your vehicles, a contact person not on the lake with you, and your expected date of departure and arrival. Our Visitor & Resource Protection Rangers patrol every day, but this is a big lake with 1.5 million visitors a year.
What are the potential impacts of the low water levels this summer?
The lower the water, the faster the current. Make sure your participants are wearing their life vest at all times on the water. The water is cold, and fast moving. Hypothermia is one of the biggest dangers here, even in summer. Practice your water saving skills before you need to use them.
Are there any other things we should be aware of for the trip?
Federal law requires you to carry approved Coast Guard-approved Marine Sanitation Devices or portable toilets (including disposable bags designed to carry human waste) with you when you are primitive camping at Lake Roosevelt. Ammo cans with a bag are not approved. Being a reservoir, digging a hole does not work since lake fluctuations and erosion expose vast amounts of lakebed every year.
Pack in and pack out EVERYTHING with you; trash, toilets, food waste.
Can we camp on the beach and have a fire?
Shoreline camping is permitted in specific areas. Check our camping page for more information.
Beach fires are allowed below the full pool line year round when the fire danger rating for the park is at or below Level 2. High fire danger closure will be in effect whenever the Washington State Department of Natural Resources issues a fire closure for areas that include Lake Roosevelt. Check with the Confederated Tribes of the Colville Reservation and the Spokane Tribe of Indians for their regulations and permit requirements if you are planning on camping on their lands. You must have your permits from them before camping on their land.
Filing a Float Plan
If you want to file a float plan, use one of the addresses listed below.
Northern Route

Kettle Falls District Office
Attn: North District LE Ranger
1368 S Kettle Park Rd
Kettle Falls, WA 99141

Southern Route

Spring Canyon District Office
Attn: South District LE Ranger
1008 Crest Dr
Coulee Dam, WA 99116
Last updated: May 13, 2021