Kontrashibuna Lake
Visit our keyboard shortcuts docs for details
Duration:

1 minute
Rugged mountain peaks reflecting in a brilliant turquoise lake and true wilderness solitude can be discovered at Kontrashibuna Lake, just a day's hike from the village of Port Alsworth.
Access
There are two options for reaching Kontrashibuna Lake: either fly into Port Alsworth and hike up the Tanalian Trails, or fly directly to the lake. Wheeled planes can land on the privately owned airstrips in Port Alsworth for a fee year round. In the summer, planes operating on floats can either land on Hardenburg Bay in Port Alsworth or directly on Kontrashibuna Lake. In the winter wheeled or ski planes can land directly onto Kontrashibuna Lake if the ice conditions are suitable.
Maps
USGS 1:63 360 series topographic Lake Clark A3 & A4
Distance
Approximately 2.9 miles one way from the Tanalian Trailhead to the lake.
Approximately 17 miles one way from the Tanalian Trailhead to the head of the lake.
Approximately 14 miles one way from the lake outlet to the head of the lake.
Time
10 to 15 hours, one way depending on where you begin and how fast you walk.
Difficulty
Moderate to Difficult. The route follows game trails and topographical beaches. The game trails leave the lake shore from time to time and meander up and down on uneven surfaces, under trees, and through thick brush. Winter storms can make the route covered by wind-blown trees and difficult to navigate. During spring and late fall the water levels are lower and beach hiking is possible. The trail from Port Alsworth up to the Kontrashibuna Lake outlet gains less than 200 feet. Elevation change along the lake is not significant if following game trails and beaches.
Highlights
Fish for arctic char and lake trout beneath scenic mountain peaks. There is little human use along this route creating opportunities for a wilderness experience that is relatively low cost compared to accessing other locations in the park and preserve.
Hazards
Both brown bears and American black bears utilize the game trail on the lakeshore. Mosquitoes and biting flies may be present.
Campsites and Food Storage
Store food in a bear resistant food container or hang in a tree twelve feet off the ground and four feet away from the tree trunk. It may be difficult to locate trees large enough to properly hang food. Bear resistant food containers are strongly recommended and can be borrowed from the visitor center in Port Alsworth. It is strongly suggested that you put anything with an odor like sunscreen, toothpaste, and fishing gear in the container as well. Cook at least 100 yards away from your camp to avoid an association made by the bear between your camp and your food. Set up camp on a durable surface away from bear trails and river banks. Please follow Leave No Trace ethics and park rules and regulations when choosing campsites, storing food, and building campfires.
Route Description
The first 2.5 miles leaving Port Alsworth are on an established well marked route from Port Alsworth to Kontrashibuna Lake. Be sure to make the stop at Tanalian Falls for a spectacular view. Once you arrive at Kontrashibuna Lake the established trail ends. Continue hiking using a combination of game trails along the shoreline and the beaches. Generally, the game trails are excellent for walking and follow the shoreline closely. Two small stream crossings will be encountered but are less than knee deep unless flooding. The headwaters of the lake offer options for exploration. Extending the hike into Gladiator Basin is possible.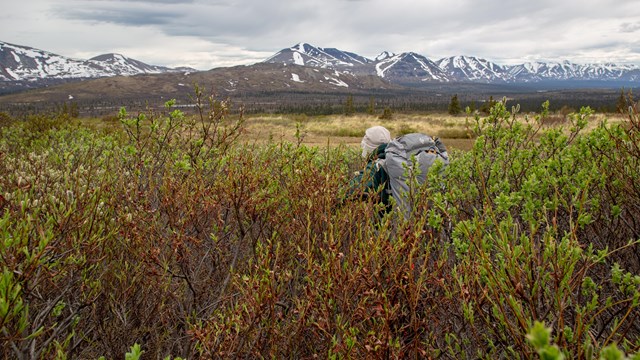 Backpacking in Alaska
Get acquainted with what makes backpacking in Alaska unique and familiarize yourself with these backcountry tips before you plan your trip.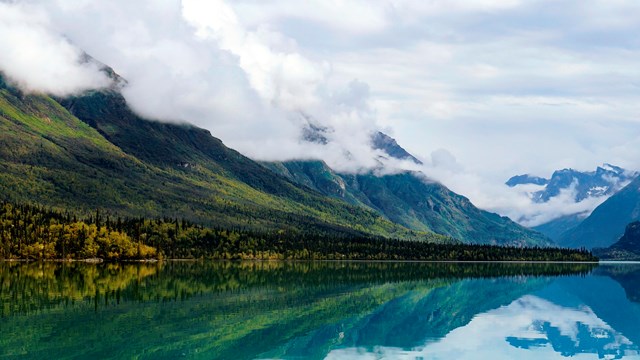 Photos of Kontrashibuna Lake
Images taken around Kontrashibuna Lake.
Last updated: December 18, 2018