For Kids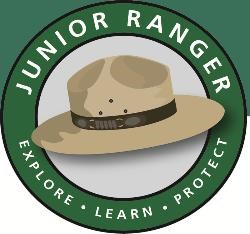 Become a Lava Beds Junior Ranger!
Kids between the ages of 5 and 13 can earn a badge while learning about the amazing caves, history, and wildlife of Lava Beds during a visit. Pick up your copy at the visitor center and start exploring!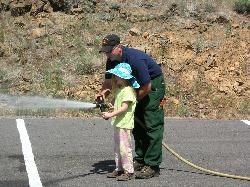 Tips for School Reports
If you are working on a school report about Lava Beds, there is lots of information on this and other websites to get you started.
Some answers to questions students frequently ask about Lava Beds include:
When was the monument established?
President Calvin Coolidge designated Lava Beds a national monument in 1925. The National Park Service has been managing it since 1933. From 1935 to 1942, Civilian Conservation Corps crews built most of the roads, trails, and services that allowed people to start visiting Lava Beds. (Learn more about the CCC here.)
How big is the monument?
Lava Beds is over 47,000 acres. This makes it 'medium-sized' as far as national parks go, but with all the history and nature to explore outside and over 700 caves to explore underground, there is enough to do here to keep you busy for a week or more! Over half of Lava Beds is designated wilderness, where only people on foot (and a few on horseback) can visit. You can print a map here.
How many visitors come to Lava Beds every year?
About 100,000. It's pretty busy here in the summer, when most visitors come to go caving and get out of the hot outside temperatures. But Lava Beds is open all year, and the weather is the same underground all the time!
What landforms are found at Lava Beds?
Lava Beds sits on a portion of the Medicine Lake shield volcano, which is part of the Cascade Range of volcanoes stretching throughout the Northwest. Different kinds of eruptions happened here, leaving behind many different geologic features. Of course, the name 'Lava Beds' should tell you that much of the landscape here is covered in lava! You can learn lots more about geology here.
What is the ecology of Lava Beds?
Most of Lava Beds is high desert, so plants like sagebrush and Western juniper and animals like Western rattlesnakes and jackrabbits are found here. However, some species found in the Cascades also extend down into Lava Beds, and life is much different at higher elevations in the southern part of the monument, as well as in moist, cool cave entrances. There is more than meets the eye here! Learn more about Lava Beds nature here, and by downloading brochures here and by visiting the Nature & Science page.
What important historical events happened at Lava Beds?
Lava Beds is most famous for the campsites and battlefields of the Modoc War, which happened in 1872 and 1873. However, there are also thousands of years of Native American history here, the story of the Civilian Conservation Corps, and the adventures of cave explorers and homesteaders. Download brochures here and check out the History & Culture page.
If your teacher needs more information to plan a class trip to Lava Beds, they can get all the information they need here. And of course, if your family is planning a trip to Lava Beds, you will be the expert guide! Good luck with your report, and we look forward to seeing you soon.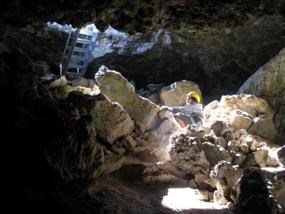 Other Park Service Fun for Kids
Did you know that even if you can't visit a park, you can still become a Junior Ranger? Check out the National Park Service's WebRanger site!
If you're planning a trip to other Park Service sites, you can learn about Junior Ranger programs before you go and check out all kinds of other fun stuff at The Learning Place.


Last updated: May 6, 2021