Alerts & Conditions
Planning a visit in the near future? This webpage describes what is open and closed in the park right now. After reading this page, feel free to call us at 530-667-8113 if you have any questions. We can be reached by phone 10 am - 4 pm daily, unless the visitor center is closed.
COVID Status
As of August 8, 2022 Siskiyou County is rated as moderate on the CDC's COVID-19 Community Level data tracker. Until further notice wearing masks is optional.
A portion of Lava Beds campground is always open year round. The camping fee is $10 which can be paid at the campground information station. All sites are primitive and sites are first come first serve.
Current Status:
Loop A :
Open
Loop B:
Closed for Winter
Group Site:
Closed for Winter (Requires reservation and a minimum of 15 people)
Fire Restrictions:
There are no current fire restrictions.
Road Condtions
Current Road Condtions: All roads in the park are open.

Winter Road Conditions:
Road conditions during winter months can change rapidly. Ice and snow might be present on all park roads and parking areas.

Please note that some park roads and roads leading into the park (primarily from the south) are not maintained and may be closed from November to mid May depending on conditions. Please review the map and the list of roads below.
FS-97: The road leading from Bartle, CA to Tionesta, CA is not maintained. This road also leads to FS-49 & FS-10.
FS-49 (Road to Medicine Lake): The section of FS-49 from Doorknob Snowpark south to FS-97 to is not maintained and heavy snowfall can be expected from November through mid May. Lava Beds maintains the gravel road from bunchgrass overlook to Doorknob Snowpark in the Modoc National Forest. (This road often is listed as the Volcanic Legacy Scenic Byway on google and other GPS services)
FS-10 (Tionesta to Lava Beds): The section of park road just south of Valentine Cave leading into FS-10 and Tionesta is rough and not maintained during the winter.
For a better overview of road conditions near Lava Beds, please use the links below.

California Roads:
Caltrans CCTV Maps
Caltrans District 2 Facebook (Most-up-to-date road closures)

Oregon Roads:
Road & Weather Conditions Map | TripCheck - Oregon Traveler Information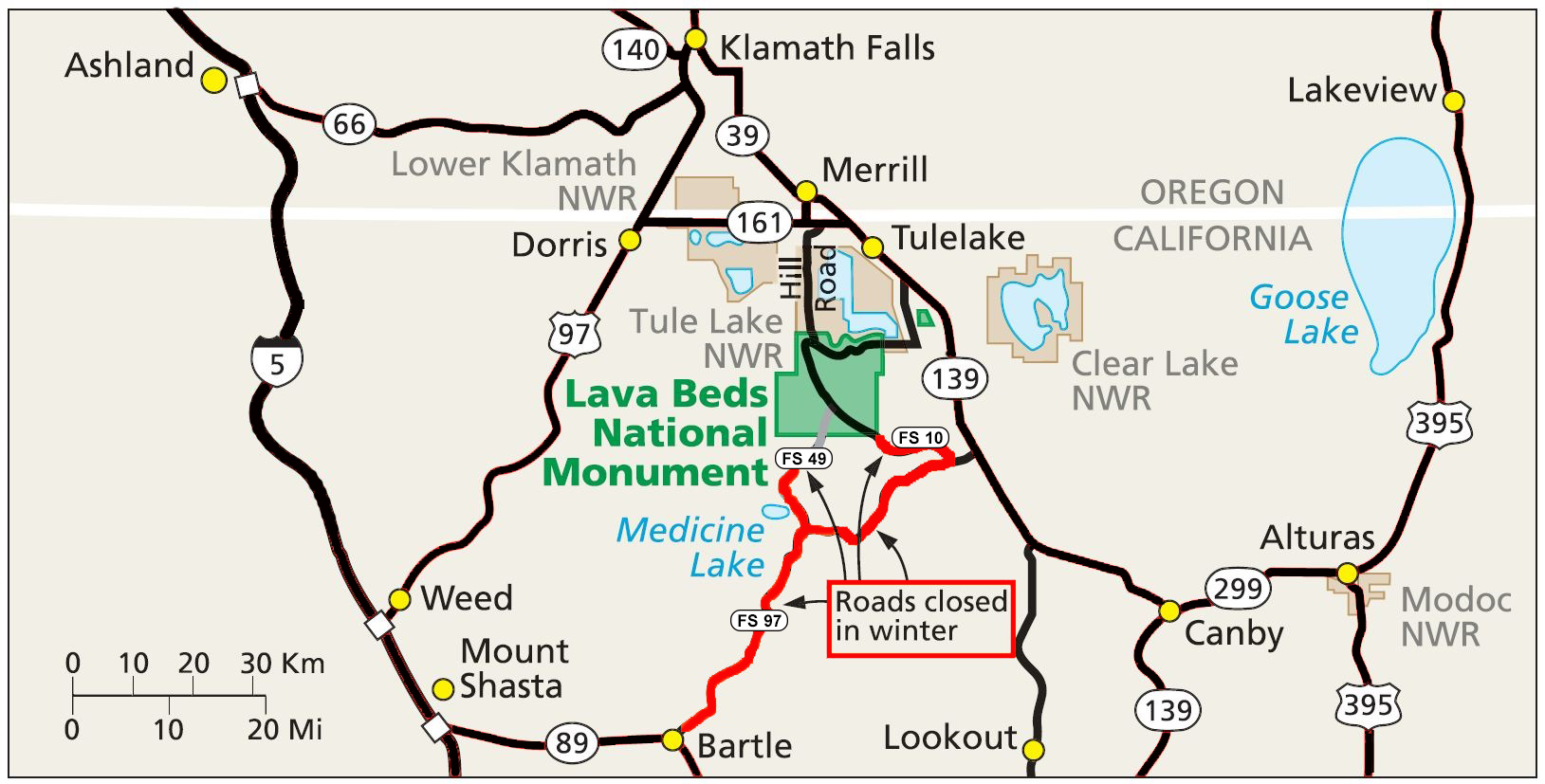 Current Air Quality
At Lava Beds National Monument particles, nitrogen, and ozone affect natural resources including vegetation and wildlife, and visibility of scenic vistas. Visit these following links to look at air quality and smoke forecasts for Lava Beds.
View More Data
Current Closures
Current Cave Closures-
Caves may be closed seasonally, or year round, depending on several reasons. Currently, the following caves are closed:
Hercules Leg
Juniper
Labyrinth
Lava Brook
Sentinal
Sunshine
For more info on Lava Beds cave closures please visit our caving page.
Loading weather forecast...
Last updated: November 14, 2023