Frequently Asked Questions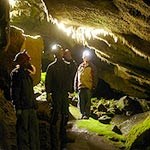 1 . How do I get to Lava Beds?
See our Directions page.
2. Where can I eat / camp / stay in a motel?
Restaurants and motel accomodations are available in neighboring towns approximately 30 minutes from the Visitor Center. Places to stay outside the monument are listed on our Eating and Sleeping page.
Snacks, ice, and soda are available at the Visitor Center bookstore. There is one campground in the monument that accommodates tents and small to medium-sized RV's. The campground also has water spigots, bathrooms, and an amphitheater for summer ranger programs. It is located near the Visitor Center and popular caves on Cave Loop. The overnight fee is $10 per site for individual sites on a first-come, first-served basis. One group site is available by reservation up to three months in advance for groups with between 15 and 40 people by calling the Visitor Center at 530-667-8113.
3. Can I bring a pet? What equipment should I bring? What is the weather like?
Your best start is our Basic Information page.
4. Do I need to take guided tours of the caves?
No. Most of the caves are open to explore on your own, with a few exceptions to protect sensitive animal populations or natural features, like roosting bats and cave ice. One ranger guided tour of a public cave is offered each afternoon in summer; no reservations are necessary. You can find more information about our developed caves by going to our Caving page.
Stop by the Visitor Center to pick up information about open caves and their difficulty levels, borrow flashlights, and purchase bump hats, batteries, and cave maps.
5. Where did the lava come from and how did the caves form?
Lava Beds is located on the slopes of the massive Medicine Lake shield volcano, part of the Cascades volcanic belt that includes Mt. St. Helens, Mt. Rainier, and dozens of other volcanoes of the Pacific Northwest. Eruptions as recent as 1000 years ago spilled massive lava flows over this area. During the course of these eruptions, some of the lava flows cooled on the outside, but stayed molten in their middle. This molten lava then flowed away, leaving only the cooled outer edges, which remained as lava tube caves. More information can be found in our Nature & Science section.
6. Where do the Modocs live now?
Not all Modocs were involved in the Modoc War in the 19th century. Many remained on the Klamath Reservation and are now incorporated into the government of the Klamath Tribes in Oregon. Those that were part of Captain Jack's band were captured by the US Army and sent by train to Oklahoma. The descendents of these prisoners of war are now known as the Modoc Tribe of Oklahoma, and are part of a confederation of tribes originating from many parts of the country.


Last updated: February 26, 2023