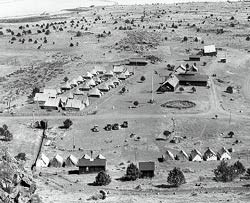 Gillems Camp, one of the principal military encampments of the Modoc War of 1872-73, came to life again under very different circumstances sixty years after the army left the lava beds. The old campsite became the center of Camp Tulelake, a base for a succession of Civilian Conservation Corps (CCC) crews that would transform the newly established national monument.
The CCC was a very successful relief program during the Great Depression. In an effort to alleviate unemployment while making needed improvements to public lands, President Franklin Roosevelt's administration started the CCC in 1933. Men enlisted for six-month tours of duty, and most re-enrolled for a full two years. Up to 150 young men were formed into work crews under Army supervision. The CCC swiftly constructed thousands of camps all over the country, including hundreds in neglected or newly established western national park sites.
Among the tasks assigned to these crews were road and trail building, firefighting, the installation of electric and telephone lines, and the construction of park administrative and visitor services buildings. For his work, a young CCC enrollee received room and board in an Army-style camp and $30 a month, of which $25 was sent home to his family. With over three million total enrollees, the CCC program contributed enormously to the economies of many impoverished hometowns.