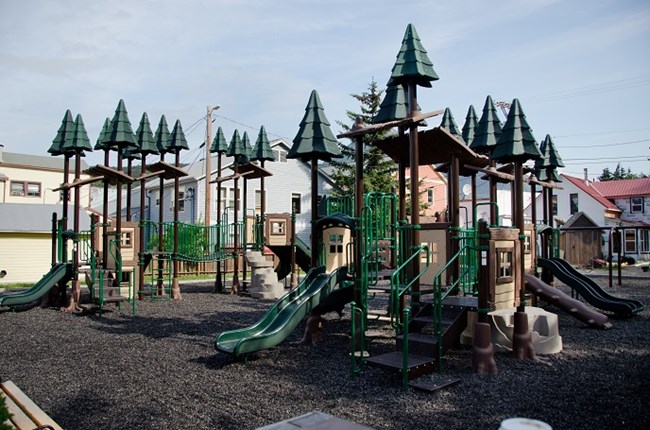 A Place to Run and Play
Mollie Walsh Park is a fantastic place for families. Children can play on swing sets and jungle gyms. Picnic areas and park benches provide a relaxing place to watch the kids. Restrooms are available in the summer from 7am to 7pm. In late summer, visitors can watch salmon run up the stream winding next to the park located on 6th avenue east of Broadway.
Mollie Walsh arrived in Skagway in 1897. A year later, she opened up a simple café along the White Pass route. Mollie, known among the stampeders for her beauty and cheerfulness, eventually married and moved to Seattle. Unfortunately, she tragically lost her life a few years later. One of her suitors, Jack Newman never forgot the beautiful woman of the Klondike he met along the trail. 28 years after her death, Newman bought this land, had a bust of Mollie made, and donated the land to the City as a memorial park in Mollie's name. Though the park has changed many times over the years, the original memorial to Mollie can still be seen commemorating this amazing woman.