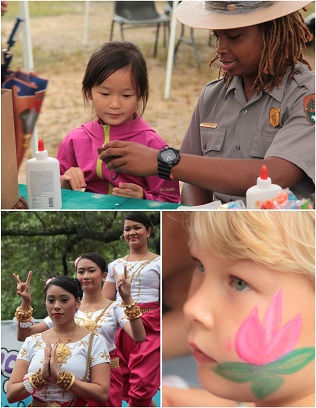 Celebrate global culture in the wild wetlands of Kenilworth Park and Aquatic Gardens at the week long 2017 Lotus and Water Lily Festival! Join us at the only national park dedicated to growing aquatic plants for fun FREE activities for the whole family.

Saturday July 15: Festival Kickoff 10:00 a.m. to 4:00 p.m.
See a spectacular display of lotus and water lilies in full bloom! Enjoy gardening workshops & traditional Latin, Asian & African dancing performances! Hands-on activities including face painting, lotus tea tasting, and painting demonstrations! Visit educational and cultural exhibitors and much more!
Sunday July 16 to Saturday July 22: Garden Walk
Join us on a ranger led stroll through the gardens to enjoy the beautiful water lilies and sacred lotuses. All ages welcome. Walks will be held on Sunday July 16 and Saturday July 22 at 10:00 a.m., 11:00 a.m., 1:00 p.m., and Monday - Friday at 10:00 a.m. The program begins from the Visitor Center.
Tuesday July 18: Kids Day Tuesday 10:00 a.m. to 2:00 p.m.
Enjoy this special day for kids during the festival with a reptile program, pond discovery, lotus crafts and more.
Thursday July 20: Paddle Night 5:30 p.m. -7:30 p.m.
Explore the Anacostia River and the marshes at the gardens by canoe with the Anacostia Watershed Society. Register and find out more event details here.
Friday July 21: Park After Dark 7:30 p.m. to 9:00 p.m.
Experience the park in the evening by joining rangers for a tour of the ponds to see the night blooming Victoria Lilies and other things that come out at night.
Saturday July 22: Music in the Gardens 5:30 p.m. to 9:00 p.m.
Bring a picnic to enjoy music in the park. Bring a picnic and a blanket and enjoy the jazz and R&B sounds of the band, Nucleus. See the rare night blooming lilies afterward!
What to Bring
A water fountain is located outside our visitor center if you bring a a reusable water bottle. Feel free to bring a picnic lunch or snacks, we have picnic tables but picnic blankets are welcome. Dogs on leash are allowed in Kenilworth Park and Aquatic Gardens and owners are responsible for picking up waste.
Public Safety
If driving to the festival, don't leave any visible valuables in your car and park in designated parking areas. When using the Anacostia Riverwalk Trail, be aware of your surroundings.
If you see something say something! Call U.S. Park Police at 202-617-7500.