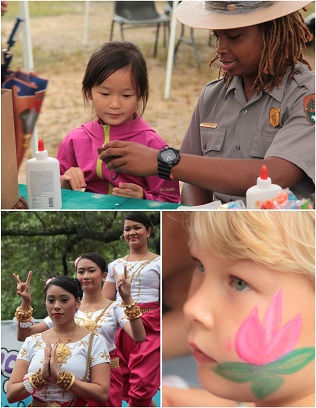 Celebrate global culture in the wild wetlands of Kenilworth Park and Aquatic Gardens at the week long 2017 Lotus and Water Lily Festival! Join us at the only national park dedicated to growing aquatic plants for fun FREE activities for the whole family.

Festival Kickoff July 15, 2017 - 10 a.m. to 4 p.m.
See a spectacular display of lotus and water lilies in full bloom! Enjoy gardening workshops & traditional Latin, Asian & African dancing performances! Hands-on activities including face painting, lotus tea tasting, and painting demonstrations! Visit educational and cultural exhibitors and much more!
Garden Walk July 16 to July 22, 2017
Join us on a ranger led stroll through the gardens to enjoy the beautiful water lilies and sacred lotuses. All ages welcome. Walks will be held on Sunday July 16 and Saturday July 22 at 10 a.m., 11 a.m., 1 p.m., and Monday - Friday at 10 a.m. The program begins from the Visitor Center.
Kids Day July 18, 2017 - 10 a.m. to 2 p.m.
A continuing celebration of the Lotus and Water Lily Festival for elementary aged kids that will offer a live reptile program, hands on arts and crafts, nature programs and more.
Paddle Night July 20, 2017
Explore the Anacostia River by canoe with the Anacostia Watershed Society. Stay tuned for launch times and locations!
Park After Dark July 21, 2017 - 7:30 p.m. to 9 p.m.
Explore the gardens on a ranger led night hike to see the spectacular night blooming water lilies that visitors rarely get to see after the park is closed.
Music in the Gardens July 22, 2017 - 5:30 p.m. to 7:30 p.m.
Celebrate the closing of the festival with performances from local group Nucleus. Bring a picnic to enjoy music in the park.

Getting There
On the day of the festival kickoff, public transportation is the best way to get to the Lotus and Water Lily Festival. Satellite parking is available at Kenilworth Park and at the Kenilworth-Parkside Recreation Center, and a free shuttle service will run between those parking areas, the Minnesota Ave Metro Station, and Kenilworth Aquatic Gardens until 5 p.m. Accessible parking is available at Kenilworth Aquatic Gardens.
What to Bring
On the day of the festival kickoff, water bottle filling stations will be provided, but visitors should bring a reusable water bottle. Food will be available for sale from a variety of vendors, but feel free to bring a picnic lunch or snacks. Some chairs will be provided in the viewing area for performances, and picnic blankets are welcome. Dogs on leash are allowed in Kenilworth Park and Aquatic Gardens and owners are responsible for picking up waste.
What Not to Bring
No alcohol is allowed in Kenilworth Park & Aquatic Gardens. Please refrain from bringing large objects like tents or tables.
The National Park Service will use the Nixle Community Information Service to deliver special event information and emergency alerts via text message. Festival guests interested in receiving emergency alerts and updates about the Lotus and Water Lily Festival can text
LILYFEST to 888777
. Nixle service is free but carrier message rates may apply.