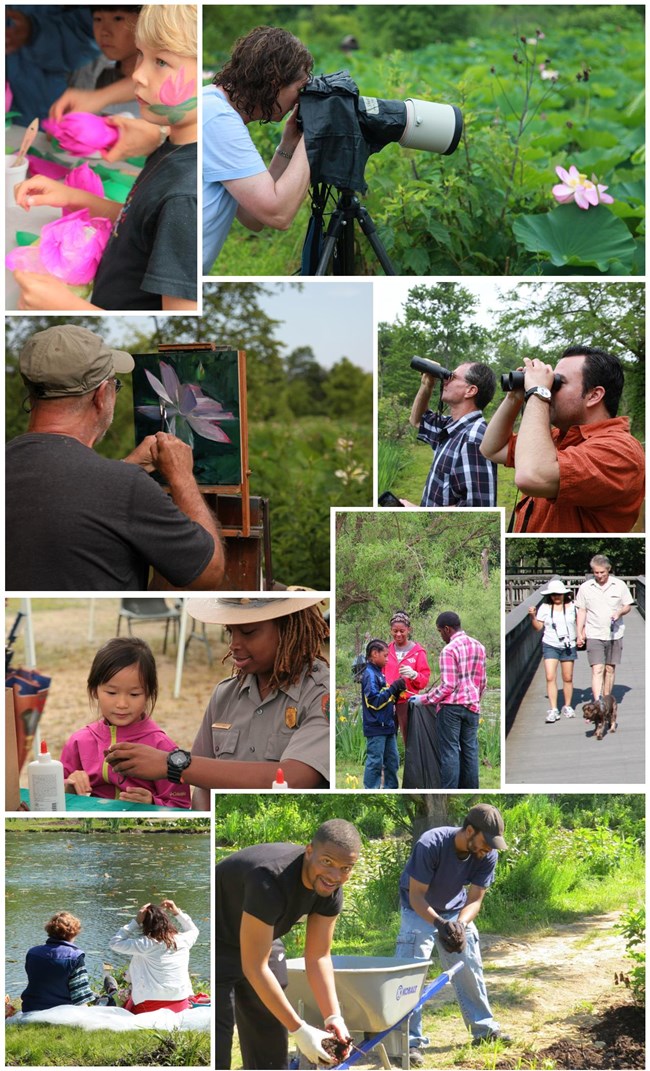 Kenilworth Park and Aquatic Gardens has things to do for ALL! Activities are waiting for you each day, changing like the natural pace of tides and seasons.
Birding, wildlife viewing, photography, water garden enthusiast, education, leisure walks, relaxation, painting, art, picnics or volunteer in a clean-up; whatever your reason may be, come enjoy a day in your National Park.
Explore
Walk around the historic ponds and discover the sights and sounds of pond life as you hear frog calls and see turtles basking on logs in the sun. Follow the boardwalk trail as it passes through lush aquatic vegetation and habitat that leads you out to Kenilworth marsh and see shore birds wading and hunting for food. For more of a hike on a dirt path, try our .7 mile River Trail that leads you away from the ponds and into a wooded shaded area with the marsh on one side and the Anacostia River on the other.
Birding
Birding has always been a good reason to come to Kenilworth Aquatic Gardens year round. With aquatic, marsh, and wooded habitat Kenilworth is home to an array of birds year round. Spring and summer catch the song birds as they whip and zip through the air. Winter season brings the winter ducks and winter migratory birds from up north.