Volunteer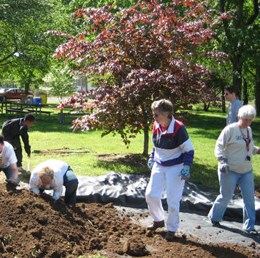 We are happy to work with individuals and groups to coordinate a one-time volunteer experience and/or create a long-term service project.
Volunteers engage in a wide variety of community service activities including the lily pond restoration, removal of invasive plants, painting, planting, pruning, trash removal and other projects as needed. These activities do require the ability to kneel, squat, lift, and perform routine gardening and clean up functions over a period of three to four hours – sometimes in warm, cold, or rainy weather. Advanced work may involve wading through lily ponds, streams, and tributaries of the Anacostia River, or the use of kayaks, flat boats, and canoes.

To register or to learn more, please contact Tina O'Connell with the Friends of Kenilworth Aquatic Gardens at (202) 494-0456, or at tina@fokag.org.
Current Volunteer Opportunities


Last updated: September 20, 2020