Things to Do
Katahdin Loop Road: We recommend starting your Katahdin Woods and Waters National Monument experience with a drive around the Katahdin Loop Road. Access the Loop Road via the Swift Brook Road off of Route 11 in Stacyville. The 17-mile loop offers a great opportunity to see the southern portion of the monument and includes pull-offs with scenic views. There are several short hikes from trailheads on the Loop Road. Allow approximately 1.5 hours to drive the loop and enjoy a few stops for sightseeing. You can access Route 11 from I-95 exits 244 (Medway) and 264 (Sherman).

Please Use Caution: Swift Brook Road and other nearby roads are actively used by logging trucks. Please drive slowly and yield to log trucks.

North Entrance: Activities through the North Entrance include canoeing and kayaking on the East Branch of the Penobscot River, as well as fishing, hiking, and mountain biking. You can access the North Entrance from either I-95 exit 264 in Sherman or exit 276 in Island Falls. Head to Patten and then turn left on Route 159/Grand Lake Road. Follow Route 159 for approximately 25 miles and take the second left turn after you cross the East Branch of the Penobscot near Grand Lake Matagamon. This leads you onto the Messer Pond Road (also call Grand Matagamon Road). The road leads approximately 4 miles south into the northern tier of the monument where it dead-ends in a parking lot with limited space. From there follow the road on foot or on mountain bike along the picturesque East Branch of the Penobscot with views of several waterfalls on the International Appalachian Trail.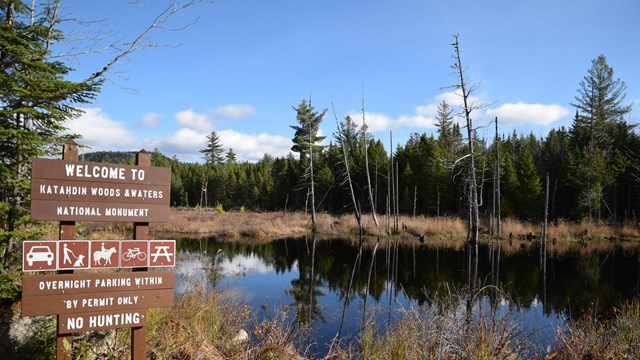 Winter Activities
Experience Katahdin on skis, on snowmobiles, on ice, and more.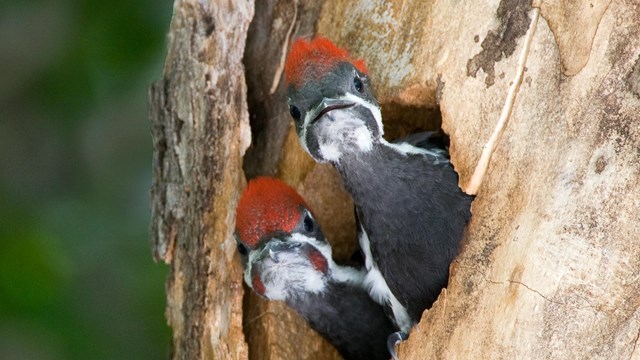 Outdoor Activities
From hiking to bird watching, and from hunting to camping, Katahdin offers a variety of outdoor activities.
Last updated: August 5, 2023