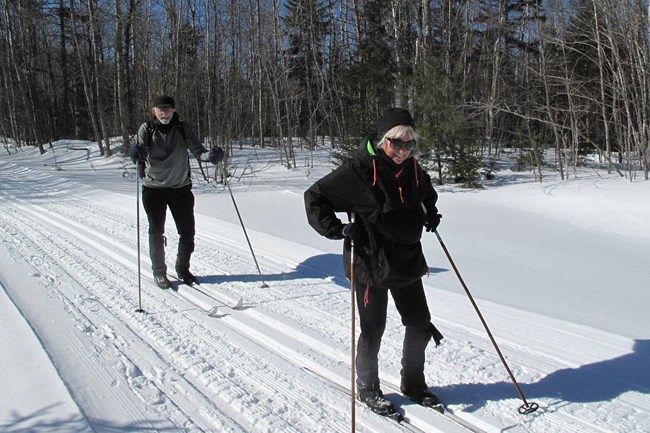 Cross-Country Skiing and Snowshoeing
Trail grooming (begins early January) starts at the north entrance of the monument and offers outstanding opportunities for cross-country skiing and snowshoeing. Cross-country skiing is also permitted on ungroomed trails throughout the monument. Use caution, as snowmobiles are permitted to use some of these trails and logging trucks will be very active on several roads around the monument during winter. Be careful when skiing on hiking trails due to the often uneven and steep nature of trails, ice falls blocking the path, and trail routes obscured by snow. Please do not snowshoe or allow dogs to walk in cross-country ski tracks.
Download the
2017 Cross-Country Ski Trails Map
(PDF 1.13 MB)
Scenic Drives
Katahdin Loop Scenic Road is closed to all motor vehicles starting on November 14, 2016.
Roads will re-open after spring melt when conditions permit. Check the
Current Conditions
page for updates.
Please be advised that there are several active winter logging operations on roads accessing monument lands, including Swift Brook Road, Grondin Road, and Sherman Lumber Road. These roads may or may not be privately plowed for timber harvests on lands near the Monument. It is recommended to avoid using these roads in winter while logging operations are active.