Winter Activities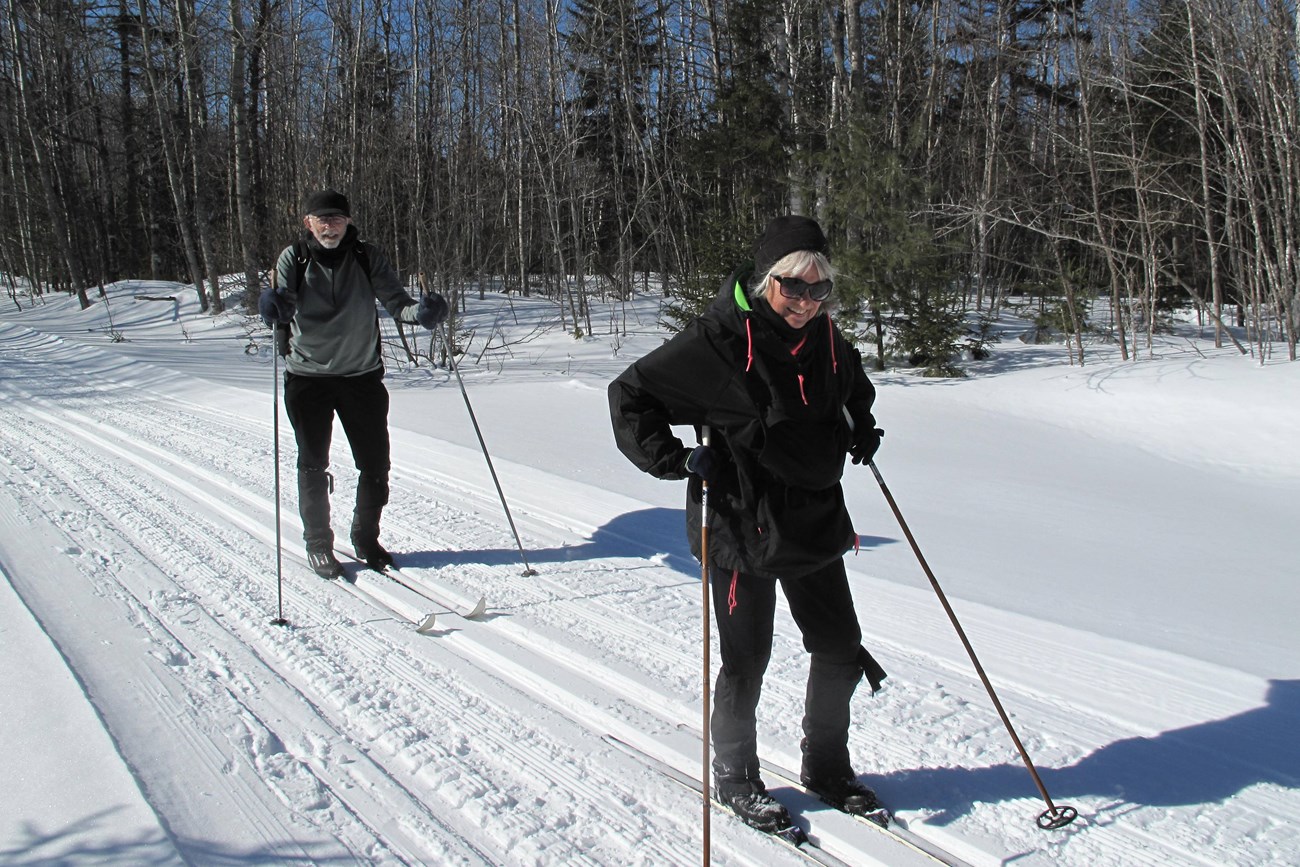 The best way to explore Katahdin Woods and Waters National Monument in winter may be by foot or on skis from the north entrance. This end of the monument is open seven days a week and offers groomed trails for cross-country skiing and snowshoeing. Winter hiking, camping, ice fishing, and fat tire biking are also accessible from the north entrance.

Visits to other parts of the monument during the winter can be challenging. Roads within the monument are not plowed for wheeled vehicles and snowmobile trails and logging operations may be active in or around those areas.
Skiing and Snowshoeing

Step into a pair of snowshoes or cross-country skis and enjoy the peace and quiet of the winter woods.

The north entrance of the monument offers miles of packed and groomed trails perfect for snowshoeing and cross-country skiing. The trails meander along the East Branch of the Penobscot River and through rolling forested terrain.

Grooming begins in the north end of the monument in mid January. The trails offer a variety of routes for all ages and abilities. Trails are groomed for classic and, conditions permitting, skate skiing. Snowshoers and leashed pets must walk outside of the ski tracks. Visit the winter trail conditions page for the current status of cross-country ski trails.

There are currently no park ranger- or partner-led winter outings but please be sure to check the calendar of events for information on future programs.
Recommended Routes
Old River Road Loop, approximately 3.5 miles
Old River Road to Oxbow Picnic Area, approximately 4 miles
Haskell Rock Pitch, approximately 12 miles

Download the cross-country ski map for more detail.

Cross-country skiing and winter hiking/snowshoeing are permitted on ungroomed trails. It is recommended that only experienced skiers or hikers use ungroomed hiking trails in winter as the terrain is often uneven and steep, ice falls may block the path, and marked routes can be obscured by snow.
Last updated: January 19, 2022