Mammals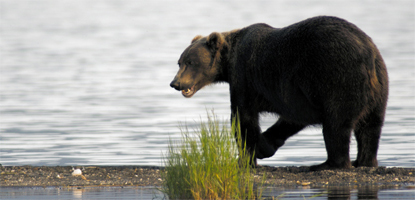 Brown bears and moose live throughout the coastal and lake regions of Katmai National Park and Preserve. The moose feed on willows, water plants, and grasses. Other mammals include caribou, red fox, wolf, lynx, wolverine, river otter, mink, marten, weasel, porcupine, snowshoe hare, red squirrel, and beaver. Along the coast are sea lions, sea otters, hair seals, porpoise. Beluga whales, orcas, and gray whales sometimes use the Shelikof Strait just beyond Katmai's boundaries.
For a draft list of mammals compiled by the Southwest Alaska Network inventory and monitoring program click here. Many questions about bears are answered in the brown bear frequently asked questions.
America's national parks provide an important refuge for three species of bears. Explore the
National Park Service's bear page
to learn about bears, the work we do to protect them, and guidelines for staying safe around them.