Frequently Asked Questions
Directions and Logistics
Katmai National Park & Preserve (
map
) is located in the northern Alaska Peninsula, northwest of Kodiak Island and southwest of Homer. The park's headquarters is in King Salmon, about 290 miles southwest of Anchorage. 
Unlike most parks in the United States, there are no roads connecting the park to the rest of the state -- you cannot drive to Katmai, Brooks Camp, or King Salmon from Anchorage. Most visitors fly or boat to the park.

Most destinations are directly accessed via air taxi flights from Anchorage, Dillingham, Homer, King Salmon, Kodiak, and other nearby Alaska towns and villages. Regularly scheduled commercial flights to King Salmon (AKN) are available from Ted stevens Anchorage International Airport (ANC) via Alaska Airlines. Boats can access the Pacific coast of Katmai. Brooks Camp and other locations along the Naknek River drainage can be reached by power boat from the villages of Naknek and King Salmon. Please see Katmai's Directions Page for more information.
The park and preserve are open year-round. At Brooks Camp, National Park Serivce and concessioner services are offered June 1 to September 17.
The 
NPS Alaska Region's commercial services webpage
has a link for authorized visitor service operators within Katmai National Park and Preserve. There you will find names and contact information for air taxis, bear watching guides, and other commercial services.
Most people who visit the Pacific side of Katmai arrive via a chartered airplane from Anchorage, Homer, Kodiak and other nearby towns, cities, and villages. Private and chartered boats can also access many places on the coast as well.
The Pacific coast of Katmai offers a combination of amazing scenery, wilderness, and wildlife viewing opportunities. Most people who visit this area of the park go to watch bears, but there are many opportunities for sport fishing and wilderness trekking too. Go to the 
NPS Alaska Region's commercial services webpage
 for an updated list of authorized commerical visitor services.
Brooks Camp
In July and September, bears are everywhere at Brooks Camp. They can be found walking trails, fishing in the river, and even napping on the beach. During July, many bears can be seen fishing at Brooks Falls which is about 1.2 miles (1.9 km) from the Brooks Camp Visitor Center. In September, most bears are seen at the mouth of the Brooks River. Please note that in June and August few bears, if any, can be seen at Brooks Camp. Please download the brochure, 
Bear Viewing at Brooks Camp
, for more information.
In the park, there are three viewing platforms located in Brooks Camp along the south side of Brooks River. The Falls Platform is located immediately adjacent to Brooks Falls, the Riffles Platform is located about 100 yards (91 m) downstream of Brooks Falls, and the Lower River Platform at the mouth of the Brooks River near Brooks Lodge.

The Falls Platform has a limited capacity of 40 people. When the Falls Platform is at maximum capacity, rangers maintain a waiting list and anyone on the platform is limited to one hour at a time on the Falls Platform. This system helps to provide equal access to the Falls Platform during peak days of visitation.

If you visit Brooks Camp in July, expect crowded conditions at Brooks Falls.
At Brooks Camp, people can fish, hike, canoe/kayak, and tour the Valley of Ten Thousand Smokes. Learn more on our 
Brooks Camp
 page.
You can stay at Brooks Lodge or camp in the Brooks Camp Campground. For information on rates and reservations for Brooks Lodge, visit 
Katmailand.com
. More information on the campground can be found 
here
. Campground reservations can be made on 
recreation.gov
.
The Valley of Ten Thousand Smokes is 23 miles from Brooks Camp. A 
daily bus tour
 is provided by the park concessioner, 
Katmailand
, and is available for a fee. A ranger-naturalist provides information and will accompany you on an optional 3-mile hike into the Valley. Reservations are recommended for the bus ride and total trip time is 7-8 hours. Backcountry hikers can arrange to be dropped off by the bus at the Valley and picked up at a later date.
Bears
Although you may encounter a bear at any time, your chances of seeing bears are best when they gather to feed on seasonally concentrated food sources like salmon and sedges. Based on what food is available, bears will concentrate feeding in different areas in different months. Please visit 
Bear Watching in Katmai
 for more information.
Other Frequently Asked Questions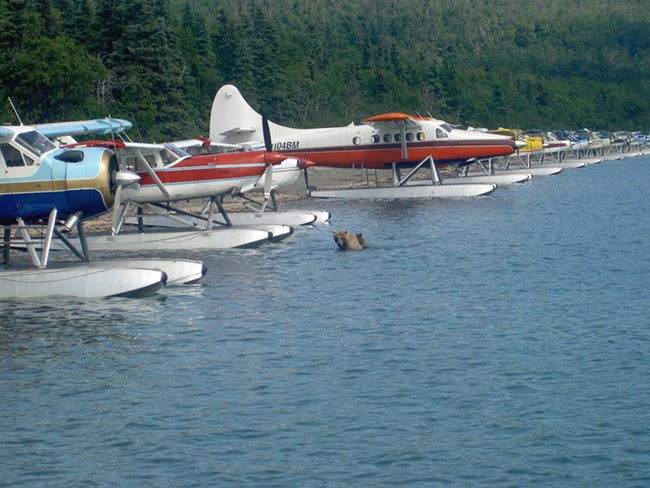 Last updated: April 3, 2023