Alerts & Conditions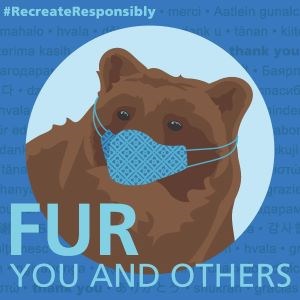 Park Operations Altered Due to COVID-19
Below is information pertinent to trip planning for the 2021 season. If you encounter discrepancies between other parts of our website and this information, this supersedes all other trip planning information during the pandemic.

While Katmai National Park is accessible for visitors to enjoy, a return to full operations will continue to be phased, and services may be limited. Please follow local area health orders and recreate responsibly. Maintain social distance, avoid high risk activities, and stay home if you feel sick. All visitors, regardless of vaccination status, must wear a face mask inside buildings and when required (on elevated platforms and walkways, during the bear orientation) and when social distance cannot be maintained. The CDC has offered guidance to help people recreating in parks and open spaces prevent the spread of infectious diseases.

The following visitor capacities have been established:
| Location | Maximum Number of Household Groups | Maximum Number of Individuals |
| --- | --- | --- |
| Brooks Camp Visitor Center- Bookstore | 1 | 2 |
| Brooks Camp Visitor Center- Orientation Room | 2 | 4 |
| Brooks Falls Platform | N/A | 20 |
| Brooks Falls Treehouse Platform | N/A | 20 |
| Brooks Falls Riffles Platform | N/A | 40 |
| Food and Gear Caches | 1 | 1 |

The health and well-being of visitors and employees remains our top priority. We continue to work closely with the NPS Office of Public Health using CDC guidance to ensure public areas and workspaces are safe and clean for visitors, employees, and partners. Our operations are continually evaluated and adjusted as necessary to ensure public health and safety. Updates will be posted on the park website and social media.
Mask Mandate for those not fully vaccinated and Hand Sanitzer

Masks are also required for anyone who is not fully vaccinated on NPS-managed lands when physical distancing cannot reasonably be maintained and in the following outdoor areas when others are present:
All elevated platforms and walkways in the Brooks Camp developed area.
Any area at Brooks Camp being used for the required NPS bear orientation for the duration of that orientation.
The porch areas of the Brooks Lodge and Three Forks Visitor Center.
Masks must fully cover the nose and mouth and fit snuggly. Masks not designed to be protective, masks with ventilation valves, and face shields do not meet the requirement.

Visitors are also encouraged to use the hand sanitizer stations throughout Brooks Camp.

By exhibiting good judgment and recreating responsibly, you help protect yourselves, other visitors, and park staff.
King Salmon Visitor Center
The King Salmon Visitor Center has a walk-up window open between 9-5 daily. Visitors can talk with staff, get information on the area, grab a brochure or passport stamp, and shop the book store.
Brooks Camp Campground
Following guidance from the White House, the CDC, and state and local public health authorities, Brooks Camp Campground is open at 50% capacity. For more information, see the earlier press release.

There are three covered cooking shelters which may only be used by one family group at a time. No eating, drinking, or cooking may take place away from the cooking shelters. In addition, only one family group at a time is allowed in the food and gear caches.

There are no public showers available at the campground or Brooks Lodge.
Bear Viewing Platforms
The Brooks Falls and Treehouse Platforms are operating at half capacity (20 individuals per platform at a time). The Riffles Platform is at full capacity (40 individuals). Masks are required for those not fully vaccinated on all platforms when others are present.

The Falls Platform is staffed during periods of high visitation. Rangers manage a wait list and limit visitors to one hour on the platform to ensure equal viewing opportunities. If visitor demand taxes platform capacity, rangers will work to adjust operations accordingly to accommodate the most visitors. The one-hour time limit at the Falls Platform may further be reduced but all groups should expect a minimum of 30 minutes of viewing time. Expect long wait times during the July peak season.

The Bridge North and South Platforms also offer excellent bear viewing opportunities. Visitors should still practice social distancing.

Park staff will continually evaluate changing conditions and adjust operations as needed to follow current health guidelines.
Ranger Programs and Other Brooks Camp Area Activities
The Valley of Ten Thousand Smokes
The Valley Tour is running this summer with the bus at limited capacity. Windows will be kept open as frequently as possible to aid in ventilation. Masks will be required for all regardless of vaccination status on the bus. Reservations must be made in advance by contacting Katmailand or calling 1-800-544-0551. Visitors already at Brooks Camp may inquire at Brooks Lodge.
Cultural Walk
At this time, the cultural site building is closed until further notice. Visitors are still encouraged to stop by the visitor center to borrow the printed publication of "Story of a House" which recounts the discovery, excavation, and reconstruction of this Alutiiq/Sugpiag home and to learn more about the history of human habitation in the area.
Hike to Dumpling Overlook
This moderately strenuous hike climbs 800 feet (244 m) over 1.5 miles (2.4 km) and offers expansive views of Naknek Lake, Brooks River, and Lake Brooks. The trailhead is located in the Brooks Camp Campground. More adventurous hikers have the option to continue beyond the overlook to the summit of Dumpling Mountain. Beyond the overlook, there is no maintained trail.
Other Programs
While evening programs are not currently offered, check the visitor center for additional programs and activities in the area.
Dining Services
To minimize the spread of COVID-19, capacity is currently limited to 25% within the Brooks Lodge dining hall. Due to this limitation, it is critical that persons staying in the campground as well as day trip visitors (without prearranged lunch reservations) understand that there is no guaranteed food service at the lodge while COVID-19 continues to be a concern. Campers and day trip visitors should not depend on lodge-provided meal service at this time.

Sit down breakfast is limited to Lodge overnight guests. The primary dining area for lunch and dinner is reserved for Lodge overnight guests with the side table area open on a first-come, first-served reservation basis for all other visitors. Reservations begin at the start of meal services. Options are available for those who wish to eat in the campground and picnic areas. Inquire at Brooks Lodge for more information.

The Lodge also maintains the Brooks Camp Trading Post which sells limited snacks.
Last updated: August 27, 2021