Alerts & Conditions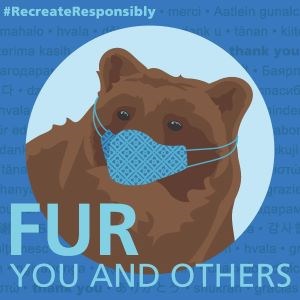 Important Safety Notice
The National Park Service follows CDC guidance to reduce the spread of COVID-19. Check locally for updates and changes in park operations. Thank you for helping to keep yourself and others safe and healthy.
Current COVID-19 community level of Katmai National Park and Preserve: LOW.

Masks are recommended but optional.

Mask requirements are based on the CDC's identified COVID-19 community level, noted above.
HIGH: masks are required for everyone indoors, regardless of vaccination status. Indoor areas include, but are not limited to, park visitor centers, administrative offices, Valley of Ten Thousand Smokes bus, Brooks Camp Lodge buildings and other NPS facilities. Masks are also required at the Treehouse and bear viewing plaforms at the Falls and Riffles in Brooks Camp.
MEDIUM and LOW: masks are optional indoors.
Masks are encouraged for people traveling on modes of commercial transportation where social distancing isn't possible.
Practice physical distancing by maintaining at least 6 feet (2 m) of distance between you and others.
Wash your hands with soap and water for at least 20 seconds or use hand sanitizer. Cover your mouth and nose when you cough or sneeze. If you feel sick, please do not visit the park.


The National Park Service continues to monitor and respond to the evolving COVID-19 pandemic, working closely with the NPS Office of Public Health to use the latest science to guide our decision making. Our priority is to protect the health and safety of our employees, partners, volunteers, and park visitors.
Masks are recommended but optional when visiting Katmai at this time. We encourage people to social distance whenever possible and use the hand sanitizing stations that are available throughout Brooks Camp.
Katmai staff will continue to monitor all park functions to ensure that we are following CDC guidance for mitigating risks associated with the transmission of COVID-19 and take any additional steps necessary to protect public health. Find more information about the National Park Service's response and operations at NPS Public Health Update (U.S. National Park Service).
Be sure to continue to monitor this page prior to your trip as we expect changes throughout the summer. We look forward to welcoming you and working together to recreate responsibly.
Last updated: January 24, 2023