Night Sky Festival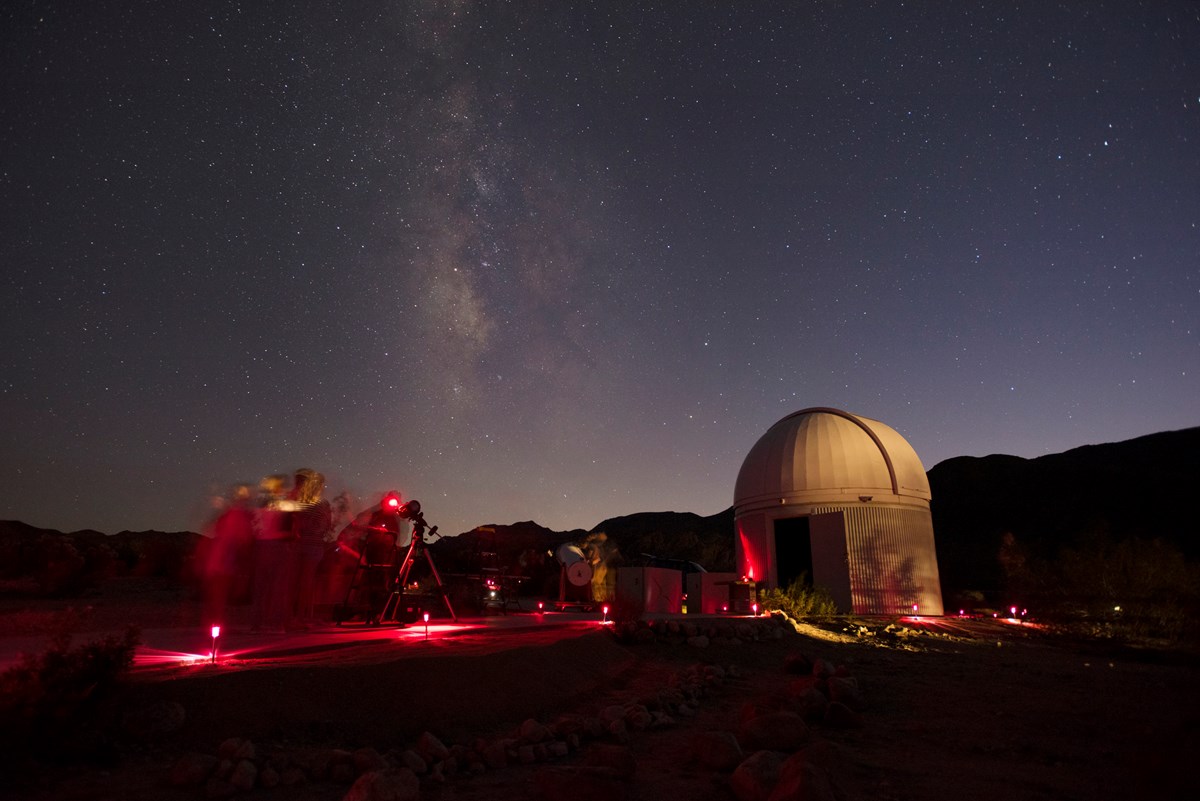 2018 Night Sky Festival: November 9–10
Joshua Tree National Park is proud to have recently been designated as an International Dark Sky Park at the Silver Tier level by the International Dark-Sky Association (IDA). The park strives to be a refuge for those who want to experience a naturally dark night sky.

Mark your calendar now for a fun-filled day and star-filled night on Saturday, November 10, 2018 for the 4th Annual Night Sky Festival. This year's event features an astrophotography workshop, plus morning and nighttime astronomy sessions.

The astrophotography workshop, led by artist photographer, John Van Vliet, will be held on Friday, November 9 beginning at 6:30 pm. Limited tickets available for this workshop.

All other events will be held on Saturday, November 10 beginning at 9 am. Learn about the Orrery, look safely at the Sun through a solar telescope, walk the Nature and Wilderness Trails, and participate in youth crafts during the morning session at Sky's The Limit. Afternoon astronomy presentations, space photo booth, and International Dark-Sky Association information table will be at Luckie Park in Twentynine Palms.

Join us for the big Star Party beginning at 6 pm with 20 telescopes and astronomers to explain the starry night sky, all while listening to live music. Tickets go on sale on August 1. Limited tickets available.

For details, program descriptions and tickets, visit www.jtnparts.org/night-sky-festival

Plan ahead to find lodging in Twentynine Palms, Joshua Tree, or other nearby towns.

This event is sponsored by non-profit organizations Joshua Tree National Park Council for the Arts and Sky's The Limit Observatory and Nature Center, in partnership with Joshua Tree National Park, and supported by the City of Twentynine Palms.

Media Contact: Ann Congdon 760-490-9561 contact@skysthelimit29.org
Remember
This is a holiday weekend. Sunday, November 11 is Veteran's Day and an entrance fee-free day in the National Parks, and Monday, November 12 a federal holiday. Expect long lines and limited parking.
Campgrounds will likely be full by Wednesday midday.
In the park, you can only spend the night in designated campsites and areas. Learn more about other options outside the park.
Things to know
If you are attending any of the night programs, remember:
Bring a red flashlight. White lights are not permitted around telescopes.

Find out more about night sky viewing etiquette and advice.

Bring warm clothing.

Dogs are not permitted at telescope viewing events.

Please be patient and flexible.
Come view the night sky throughout the year
Night sky programs are offered throughout the year. Check park bulletin boards for updated schedules.

There may be telescope viewings held outside the park by local partners, Sky's the Limit and Southern California Desert Video Astronomers.

Or, on any clear night, come enjoy the stars on your own! Read more about stargazing in Joshua Tree.
Watch a series of short films and learn why the NPS cares about protecting dark night skies.
Last updated: October 9, 2018