Camping Outside of the Park
Are there any available campsites in the park right now?
Campgrounds are usually full on weekends October through May. From mid-February to mid-May (and during holidays) campgrounds usually fill throughout the week. To improve your chances of getting a campsite and avoid disappointment, visit during the off-season (June-September), reserve a site, and/or have alternate overnight plans ready.
Reservations are required at all campgrounds except Belle, White Tank, and Hidden Valley.
Private Campgrounds and RV Parking
The following list of area campgrounds is for informational purposes only and is not an endorsement or recomemendation.
North of the Park
Joshua Tree Lake RV & Campground
2601 Sunfair Road
Joshua Tree, CA
760-366-1213
www.joshuatreelake.com
Joshua Tree RV & Campground
6225 Sunburst Avenue
Joshua Tree, CA
760-974-9132
https://jtrvcamp.com
Little Pioneertown RV
55408 Twentynine Palms Highway
Yucca Valley, CA
(760) 362-2163
www.littlepioneertownrv.com
Pioneertown Corrals
53626 Mane Street
Pioneertown CA 92268
(760) 365-7580
http://www.pioneertowncorrals.biz/CampCorrals.html
Twentynine Palms RV Resort
4949 Desert Knoll Avenue
Twentynine Palms, CA
760-367-3320
www.twentyninepalmsresort.com
Tortoise Rock Casino *
73829 Baseline Rd
Twentynine Palms, CA
760-367-9759
https://www.tortoiserockcasino.com
*Self-contained RV parking. No hook ups.
California Welcome Center*
56711 Twentynine Palms Highway
Yucca Valley, CA 92284
760-365-5464
https://californiawelcomecenter.com/
*Self-contained RV parking. No hook ups.

South of the Park
Chiriaco Summit
62450 Chiriaco Road
Chiriaco Summit, CA
760-227-3227
Palm Springs/Joshua Tree KOA
70405 Dillon Road
Desert Hot Springs, CA 92241
koa.com/campgrounds/palm-springs/

Short-Term Camping on Private Land
HipCamp
Dispersed Camping
There are some camping options nearby the park on public lands managed by the Bureau of Land Management (BLM). These lands have their own rules and regulations for dispersed camping.
There are no developed facilities in dispersed camping areas: no restrooms, no water, no trash collection. Bring what you need and pack out all your trash. All vegetation, living or dead, is protected by law. Campfires require a permit available from BLM offices.
Camping is allowed within the dispersed camping areas shown, except within 300 feet (91 m) of roadways or if there are signs marking the area closed to camping.
Learn more about where and how to camp on these lands on
the BLM website
.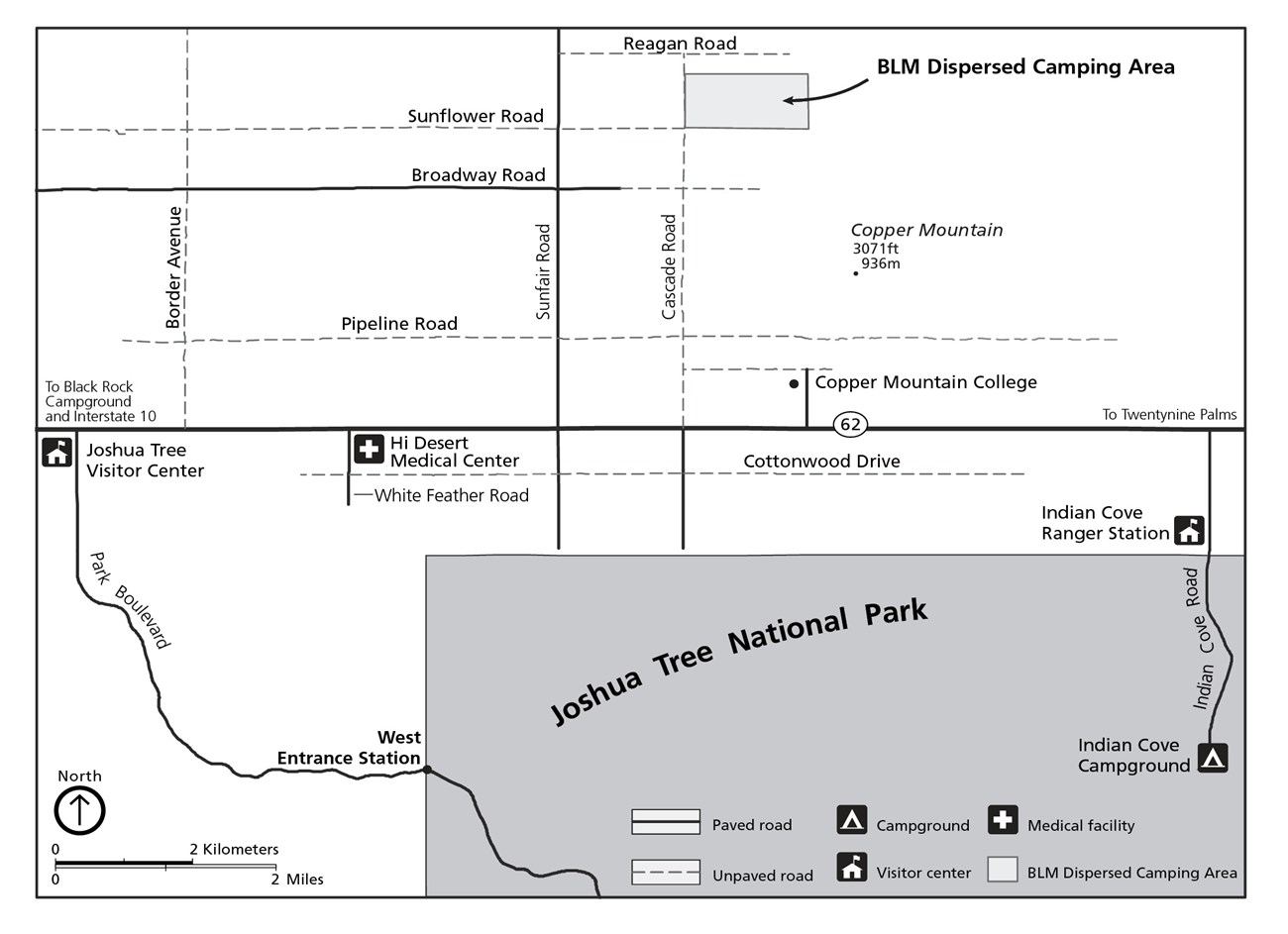 Please follow the map carefully before camping. The area is surrounded by private property on which camping is not allowed.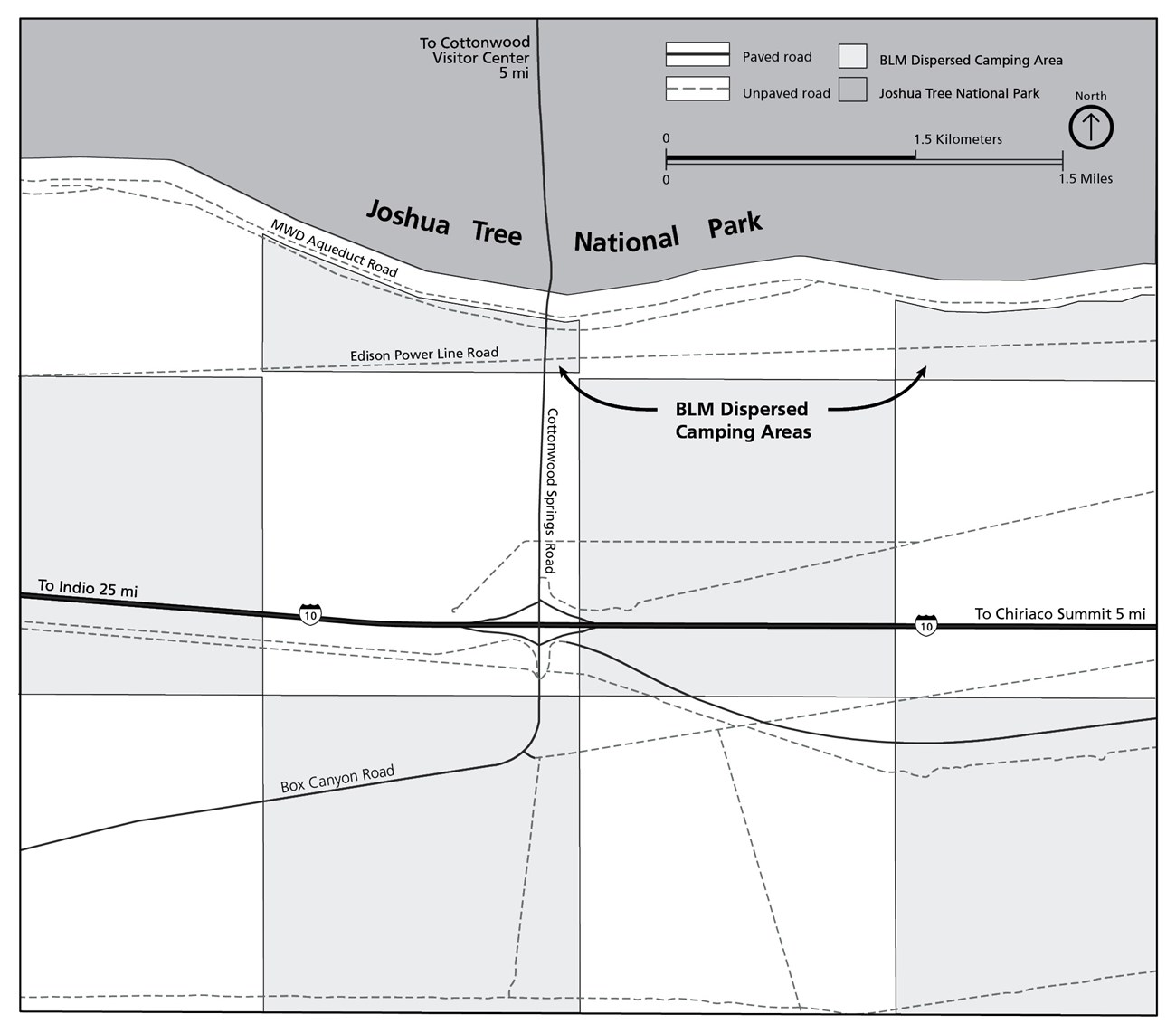 The BLM land south of the park allows for camping on certain sections of the BLM land. Follow the map carefully when choosing a campsite to camp in an appropriate area.
Last updated: October 16, 2023