Joshua Tree National Park Unveils New Paleontology Wall at Visitor Center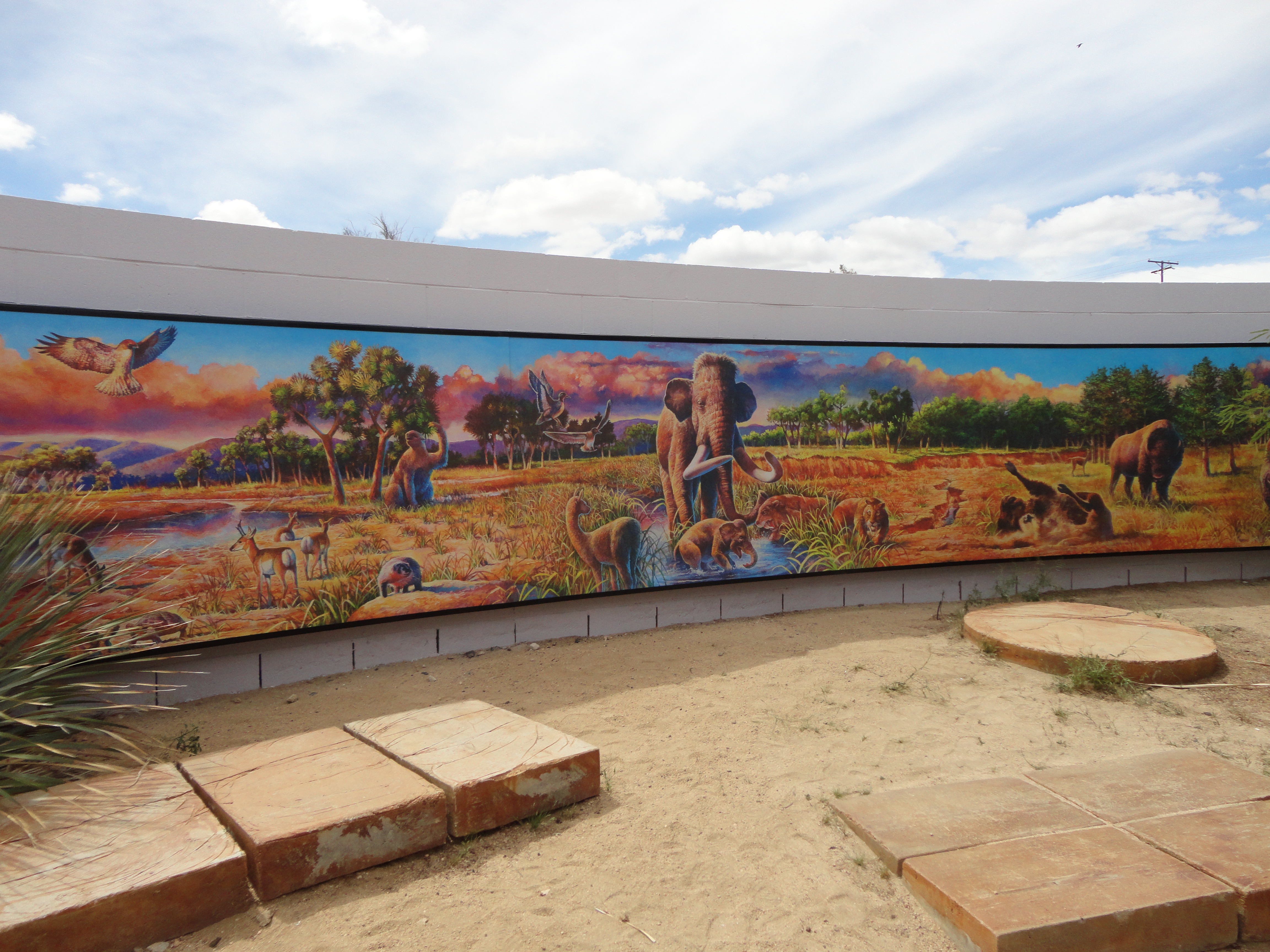 News Release Date:
May 4, 2016
Contact: George Land, 760-367-5507
Joshua Tree National Park, Twentynine Palms, CA –
A new mural illustrating the living creatures that occupied the area in and around the park thousands of years ago is now on exhibit in the Joshua Tree Visitor Center. The mural offers a rare glimpse of how climate change, through time, can alter the landscape and life within. 
Now an arid desert, this region teemed with life during the Pleistocene Epoch- Ice Age 2.6 million to 12,000 years ago. During this wetter time frame, a braided stream system likely passed through this basin and may have led to the formation of isolated lakes. Abundant water provided sustenance for many plants and animals. Massive Columbian mammoths roamed here as did camels, llamas, horses, ground sloths and bison. Ducks flocked to the shoreline of isolated lakes. Predatory birds circled overhead, while dire wolves and other predators stalked their prey.
The fossilized remains found in the Pinto Basin confirm that these animals were here in an abundance that could not be supported by today's parched desert ecosystem. As the ice age of the Pleistocene subsided, temperatures rose and the land dried out. Plants and animals unable to adapt to the changing conditions died changing the area from a lush paradise to the desert environment we know today. 
The art work for the mural was painted by noted artist Robert Hynes. Later this year the park will also be unveiling an extensive, new exhibit at Joshua Tree Visitor Center which features a natural and cultural overview of the park.
The park invites you to come experience these interesting and educational exhibits for yourself and help celebrate the National Park Service's Centennial Year. Come out and find your park! 
Last updated: May 5, 2016