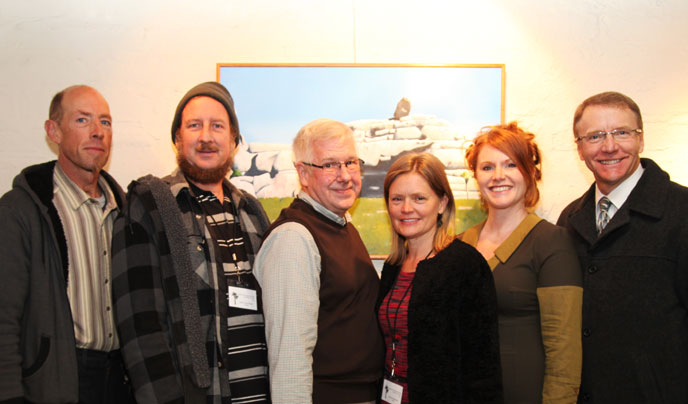 News Release Date:
December 7, 2013
Contact: Jennie Kish Albrinck, 760-367-5520
Yesterday evening, December 6, 2013, the Joshua Tree Art Show & Faire artist awards were announced at the 29 Palms Art Gallery. Over 300 people were in attendance at the opening reception and awards ceremony. The winners of the Artist Award are:
Robert Fogel from Haughton, Louisiana for his evocative metal sculpture "High Blue Turquoise Seam."
David Green from Twentynine Palms, California for his acrylic on canvas "Storm at Twilight."
John Greenfield from Yucca Valley for his ceramic sculpture "Sedimental."
Karine Swenson from Joshua Tree, California for her oil on canvas "Confrontation."
The winner of the Artist Award of Distinction is John Tierney from Durham, England for his oil on canvas "Rocks, Joshua Tree #3."
Congratulations to these, and all the fine artists who had art juried into the show.
Fifty local, national, and international artists were selected for this juried art show and competed for $6,000 in awards. The artwork chosen demonstrates the artists' inspiration and passion for the natural beauty and cultural history of Joshua Tree National Park, a site that has attracted artists and nature lovers the world over for more than 75 years.
The art show opened at noon on Friday, December 6, at the 29 Palms Art Gallery. Events are scheduled throughout Saturday and Sunday, with an Art Celebration at 5 pm on Saturday night at the 29 Palms Inn.
All five venues at the Oasis of Mara are hosting the festivities, from Oasis Visitor Center on the east end, to the 29 Palms Art Gallery, 29 Palms Inn, Old Schoolhouse Museum, and finally the 29 Palms Creative Center and Gallery on the west end of the oasis. Admission is free, and all event venues are within walking distance of the oasis.
For a complete schedule of events and information about the featured artists, local lodging, Joshua Tree National Park, links and updates, visit the website at www.jtnpartfaire.com.