Date:
March 31, 2007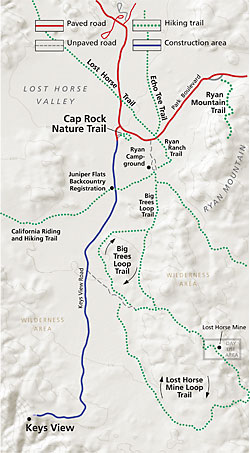 Under the Federal Highways Program, Joshua Tree National Park will begin reconstruction of Keys View Road starting Monday, April 2. Repairs and road rehabilitation will occur from the intersection at Cap Rock Nature Trail and Keys View Road and continue along the five-mile stretch to Keys Overlook. Cap Rock Nature Trail, picnic area, and public parking at Cap Rock will remain open during the construction.
Visitors may encounter construction activities and some delays. Between April 2 and June 1, 2007 and between September 30 and November 15, 2007, the maximum traffic delays will be no more than 30 minutes total. Road closures will be allowed for Keys View Road Monday through Friday from June 2 through September 29, 2007. During this time, the road will be open for visitor traffic on weekends and federal holidays. Visitors are urged to obey all posted speed limits in the construction zone and to follow all instructions from traffic control personnel.
The purpose of the construction activities is to rehabilitate aging park roads and eliminate unsafe road conditions. Highway repairs will also protect native park vegetation by preventing illegal off-road driving and reducing soil compaction from social trails.
The repairs will improve drainage along park roadways to control erosion and flash-flooding. Visitors will also enjoy wider, paved roadways with one-foot paved shoulders. Parking areas are being improved and new roadside curbing will better preserve native Joshua trees and desert wildlife habitat.
It is anticipated that this phase of highway work will be completed by late fall, 2007. For further information about the road construction project, please call 760-367-5683.