Date:
July 3, 2006
Contact:
Joe Zarki, 760-367-5527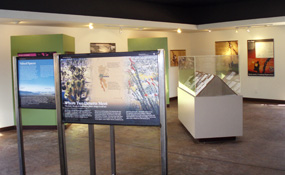 Exhibits have been installed in the new Joshua Tree Visitor Center. The exhibits feature information about park geology, ecology of the park's two-desert ecosystem, cultural and historic sites present within the park, and recreation activities such as hiking and rock climbing.
Several of the exhibit panels were developed originally to replace aging wayside exhibits located throughout the park. The panels were reproduced here as a means of quickly and inexpensively providing integrated exhibits and displays in the visitor center, which opened in June, 2006. These temporary displays will be replaced in two or three years, after funding for permanent exhibits can be set aside and a permanent exhibit project developed.
Funding for the current exhibits came through donations to the park from Unilever/Clear Seas, through its partnership with the National Park Foundation and from general donations from park visitors.
The Joshua Tree Visitor Center is jointly operated by the Joshua Tree National Park Association and the National Park Service and is located at 6554 Park Boulevard in the community of Joshua Tree, five miles from the West Entrance of Joshua Tree National Park. Open daily, year-round, Joshua Tree Visitor Center hours are 8 a.m. to 5 p.m. The non-profit Joshua Tree National Association donates proceeds from bookstore sales to assist with preservation, education, historical, and scientific programs for the benefit of Joshua Tree National Park and its visitors.