Date:
May 24, 2006
Contact:
Joe Zarki, 760-367-5520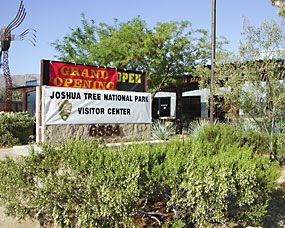 Joshua Tree National Park, in partnership with the Joshua Tree National Park Association, is pleased to announce the opening of a new visitor center in the community of Joshua Tree. Located at 6554 Park Boulevard, just south of Highway 62, Joshua Tree Visitor Center will be open daily, year-round, from 8 a.m. to 5 p.m.
Joshua Tree National Park Association purchased the former Park Center property to establish the newest and fourth Joshua Tree National Park visitor center. Park rangers and Association specialists will answer questions about what to do and see in the park. Books, videos, maps, and related items will be available for sale. The National Park Service will install a series of interpretive exhibits in June. Because of its proximity to the park's busiest entrance, it is anticipated the new visitor center will be a key location in helping visitors with information on hiking, wilderness exploration, rock climbing, and camping. Later this summer, visitors will be able to purchase tickets for Keys Ranch tours and a variety of recreation passes such as the National Park Pass and the Joshua Tree Annual Pass will be available in time for the fall visitor season.
According to the National Park Service's public-use statistics, the average number of visitors to Joshua Tree National Park each year is 1,325,630. Because nearly half of these visitors enter the park through the West Entrance, the National Park Service and the Joshua Tree National Park Association have long desired to establish a facility to provide visitor information and orientation services to these visitors.
The park's three other visitor centers, Oasis Visitor Center in Twentynine Palms, Cottonwood Visitor Center off I-10, and Black Rock Nature Center in Black Rock Campground, will continue their normal operations with no change in operating hours. Joshua Tree National Park and Joshua Tree National Park Association headquarters will remain in Twentynine Palms.
The non-profit Joshua Tree National Association donates proceeds from bookstore sales to assist with preservation, education, historical, and scientific programs for the benefit of Joshua Tree National Park and its visitors. According to Superintendent Curt Sauer, "…the National Park Service and Joshua Tree National Park Association have enjoyed over 43 years of affiliation through a close working partnership. Millions of visitors to Joshua Tree National Park and the communities that surround it have benefited from the information services, book sales, and educational classes and lectures that the Association provides. The Joshua Tree Visitor Center fills a need identified in the park's General Management Plan to establish a visitor information facility within or near to the park's West Entrance. As such, this acquisition fulfills an important park goal."