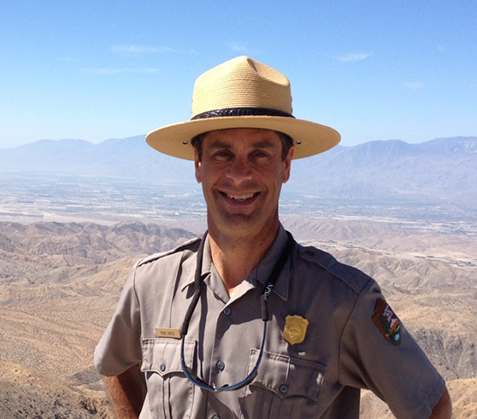 News Release Date:
July 23, 2014
Contact: Jennie Kish Albrinck, 760-367-5520
Contact: George Land, 760-367-5507
 JOSHUA TREE NATIONAL PARK, Twentynine Palms, CA - Todd Suess, Deputy Superintendent at Olympic National Park since February 2010, has been appointed to the position of interim superintendent of Joshua Tree National Park following the retirement of Mark Butler on March 2, 2014, and the completion of the first interim assignment by Andrea Compton. Prior to Suess's time at Olympic National Park, he was the Superintendent at Jewel Cave National Monument in western South Dakota for 9 years. Suess also worked at Devils Tower National Monument and Pipestone National Monument as Chief of Natural and Cultural Resources, and with the Bureau of Land Management in Yuma, AZ as an outdoor recreation planner.
"This is an exciting opportunity for me to serve the visitors and staff of Joshua Tree National Park.  It is a privilege to have been selected to lead the park through this changeover to new leadership.  I am looking forward to learning about the park and the great partners the park has in the local communities.  This is a truly unique and special place in the National Park System."  Suess will act as interim superintendent until permanent superintendent, David Smith, arrives in late September.
Suess, along with his spouse Jackie and two daughters, will be living in the Twentynine Palms area during this assignment.  He and his family are excited about exploring the local area, one that is very different than their current home near the rain forests of western Washington.
-NPS-
For more information about Joshua Tree National Park, see the park's website or follow us on Twitter (@JoshuaTreeNP) or Facebook (Joshua Tree NP).