Noxious Package Closes Park Headquarters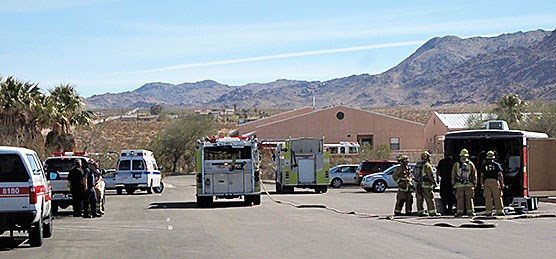 The administrative headquarters for Joshua Tree National Park was closed Wednesday afternoon in response to an apparent hazardous materials incident. Administrative staff reported symptoms of skin irritation, respiratory distress, nausea, and eye irritation after working in the park's mailroom. The building, located at 74485 National Park Drive in Twentynine Palms, was evacuated and local Hazardous Materials (HazMat) teams were called to the scene. Primary suspicion fell on a package that had been delivered to the park by commercial carrier earlier in the day.

Eleven park employees were decontaminated and assessed by EMS personnel. The nature of the material that caused the sudden onset of symptoms has not been determined and remains under investigation by local and federal agencies.

The Oasis Visitor Center was closed to the public at 4 pm to assist emergency workers with the decontamination and clean-up process. No park visitors were exposed to any contamination during the incident.

Emergency units responding to the incident included National Park Service rangers, Combat Center Fire Hazardous Materials Unit, Twentynine Palms Fire, and Morongo Basin EMS. Acting Chief Ranger Jeff Ohlfs of the National Park Service and Chief Jim Thompson of Twentynine Palms Fire served as co-Incident Commanders.

For further information about the incident contact Twentynine Palms Fire at 760-219-5575.

Last updated: February 28, 2015