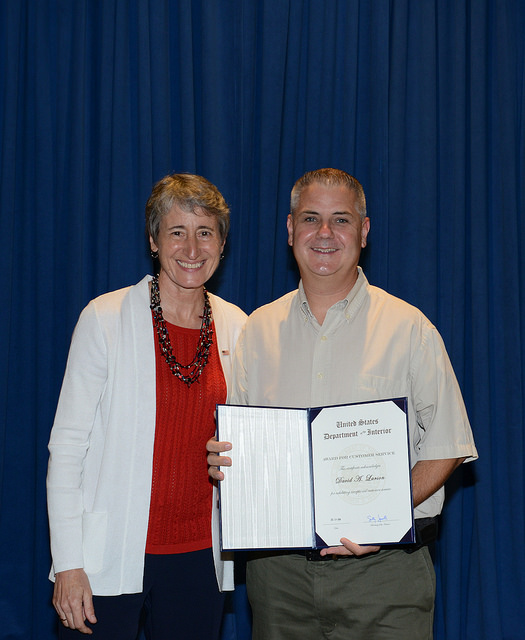 News Release Date:
July 12, 2016
Contact: George Land, 760-367-5507
Joshua Tree National Park, Twentynine Palms, CA –
Joshua Tree National Park Association employee Dave Larsen, was awarded one of only eight Department of Interior Individual Customer Service Awards given in 2016. Larsen was invited to Washington D.C. to attend the ceremony where Secretary of the Interior, Sally Jewell presented him with the coveted honor.
Mr. Larsen has worked for the Joshua Tree National Park Association for close to six years as an information specialist and assists with visitor services at all three park visitor centers. "I was very proud to be recognized and it was an honor to attend the ceremony. I am also very proud of the entire park staff who have done such a great job handling the challenge of increased visitation numbers", said Larsen.
Dave lives in Joshua Tree with his wife and daughter who accompanied him to Washington. After the ceremony they were treated to the Fourth of July Fireworks from the roof top of the Department of Interior Building.