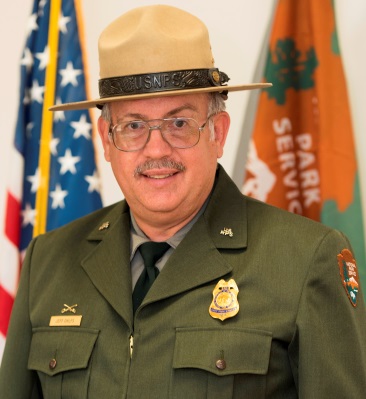 News Release Date:
August 23, 2016
Contact: Jennie Albrinck, 760-367-5520
JOSHUA TREE NATIONAL PARK, Twentynine Palms, California – Chief Ranger Jeff Ohlfs will be retiring on August 31 after 32 years with the National Park Service (NPS), having worked for the agency one third of its existence. He has served at Joshua Tree for 26 years.
Jeff started his parks career in California with San Jose City Parks, Santa Clara County Parks, California State Parks, the Army Corps of Engineers, and the Bureau of Reclamation.
Thanks to NPS retiree Donald McHenry and his wife Bona May, Jeff was introduced to the NPS at a very early age. It was after hearing their stories of adventure, travel and nature at the age of five that Jeff dreamed of becoming a park ranger. Jeff says, "Not many people can say they have lived their dream!"
Jeff began his NPS career in 1981 as an intern at Pinnacles National Monument. He worked as a law enforcement seasonal at Crater Lake National Park, Whiskeytown National Recreation Area, and Redwoods National Park. He spent his entire permanent career as a law enforcement ranger first at C&O Canal National Historic Park, then Hot Springs National Park. He also detailed to Lake Meredith National Recreation Area.The majority of Jeff's career however, has been spent at Joshua Tree National Park. He never planned to work at a desert park, but grew to love the beauty of Joshua Tree.
Jeff graduated from Humboldt State University, West Valley Community College, Santa Rosa Seasonal Academy and the Federal Law Enforcement Training Center.
Milestones of his career include a Hurricane Ike assignment, a protection detail for the Emperor of Japan's visit to Saipan, serving five years on a National Type 1 Incident Management Team, representing the NPS at two National Scout Jamborees, and completed a DOI ITAP assignment to Oman. Most recently, he represented the NPS at the 2016 Tournament of Roses Parade and festivities. He even did a stint as a reality TV star on Wildlife Wars. Always one to honor fallen officers, Jeff was a primary researcher for names to be included on the Washington Office Memorial Wall. As an Eagle Scout, he received the William T. Hornaday Award for Conservation.
Jeff has been and continues to be very active in the international ranger community. He has attended every World Ranger Congress, initiated the first World Ranger Day and most recently served seven years as the International Ranger Federation's North American Representative.
In his retirement, Jeff plans to continue traveling the globe (including working on his NPS life list) and being a closet historian. He will also continue his work with the international ranger community honoring the work of the "Thin Green Line."
"Jeff has had a remarkable career working for the National Parks. When I first came to Joshua Tree as a volunteer in 1994, he was my very first supervisor," said Superintendent David Smith. Smith continued, "Jeff is known throughout the NPS and all local law enforcement agencies as an outstanding and reputable Chief Ranger. Jeff's unsurpassed integrity has earned him the local Officer of the Year Award three times during his time at Joshua Tree." Smith went on to say, "Joshua Tree has truly benefited from his experience in law enforcement, fire, search and rescue, wilderness issues, safety, fee management, and historical research for the past 26 years. On behalf of his many NPS colleagues, we wish Jeff well in his retirement."
Jeff will be released into the custody of his wife, Deb. To which Deb responded, "Retired husband—free to a good home!" Jeff and Deb will continue to make their home in Twentynine Palms.
Jeff's retirement party is already fully booked but he thanks everyone for their support and well wishes.