Barker Dam Undergoes Major Restoration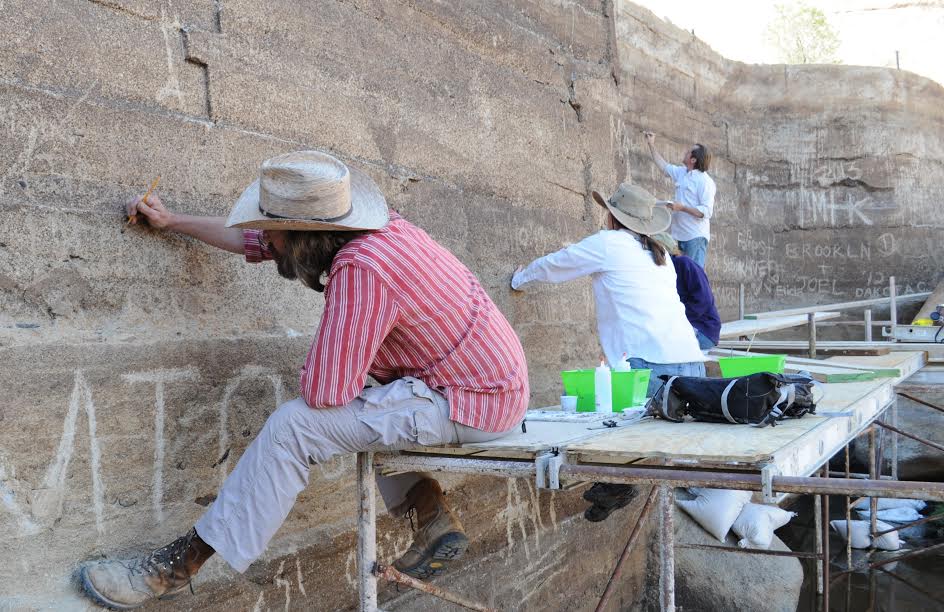 News Release Date:
April 21, 2015
Contact: Jason Theuer, 760-367-5570
Contact: Molly Ray, 760-367-5573
Twentynine Palms, CA , Joshua Tree National Park - Over the last year and half, professional conservators from the University of New Mexico helped Joshua Tree National Park develop a method of mitigating scratched graffiti at Barker Dam, a significant historic site that is located on a popular trail within the Park. The year and a half partnership culminated with a weeklong project from March 22- 29, where architectural conservators from the University of New Mexico volunteered their skills to effectively mitigate the visual impacts of scratched graffiti from the entire surface of the dam.
Barker Dam is listed on the National Register of Historic Places. The dam was originally constructed by the Barker and Shay cattle company in 1902 and was added to several times by William "Bill" Keys, a homesteader and local legend. The dam serves as a tangible reminder of the tenacity and ingenuity of homesteaders struggling to survive in the extreme deserts of the American Southwest. Rusted metal pipes scavenged from abandoned mines protrude from the top of the masonry and concrete dam that catches and holds seasonal precipitation. No springs exist in the area, so catchments such as Barker Dam were vitally important for ranchers and homesteaders trying to settle the desert.
The dam can still hold water, but the ongoing drought in California has severely reduced annual precipitation. Lowering water levels in the dam exposed the naturally weathered surface and vandals were quick to act. In less than a year, scratched graffiti spread across over 50% of the entire surface of the dam. Aside from the physical damage to the concrete, which has resulted in spalling and deterioration in some places, the presence of highly visible scratched graffiti only encouraged people to add their names and messages.
UNM conservators employed a method known as "in-painting" to blend the scratched areas into the surrounding naturally weathered surface. After testing a variety of different methods ranging from dry and wet brushing, to low-pressure power-washing, and various types of paints, the conservators settled on silicate based paints for their durability and the ability to re-treat these areas in the future without having to remove the current treatment. "In-painting" is a time consuming and labor intensive process that involves adding pigments to the scratched areas with a method similar to the painting style of pointillism.  Instead of merely painting over the graffiti entirely, the paint is applied in a way that matches the surrounding colors, textures, and patterns.
The Park Service has a long history of dealing with graffiti on historic structures, rock art panels, and other irreplaceable cultural resources.  The conservators from the University of New Mexico working through the CESU network have played an increasingly important role in developing the best methods and techniques based on the highest professional standards. 
Last updated: April 21, 2015