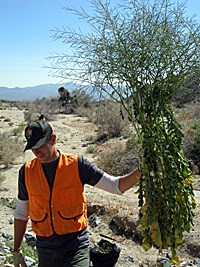 Release Date: February 21, 2013
Contact: Jennie Kish Albrinck, 760-367-5520
Joshua Tree National Park is seeking volunteers to help control the aggressive Sahara mustard plant that is invading the park and surrounding communities. This rapidly spreading annual is most successfully controlled by manually pulling plants before they are able to spread their seeds across the desert landscape.
Please consider joining park staff and fellow volunteers to pull Sahara mustard plants for a few hours this spring. The weed pull events will be held from 8 am to 1 pm on the following Saturdays in March: 3/2, 3/9, 3/16, 3/23, & 3/30.
We will meet at the Oasis Visitor Center in Twentynine Palms at 8 am and carpool to the work site. Please bring water, snacks, hats, and sunscreen. Tools and gloves will be provided.
Late winter and early spring is typically when the desert starts to show off its colorful wildflower blooms. In recent years, the profusion of yellow blossoms along park roads has often included outbreaks of the non-native Sahara mustard. This aggressive invader is capable of crowding out native Mojave Desert annuals and providing increased fuel loads during wildfires.
For more information about the park's weed control program, contact Kipp Callahan at 760-367-5575, or by e-mail at: kipp_callahan@partner.nps.gov. You can learn more about the community sponsored Hold the Mustard project at the Morongo Basin Conservation Association website: http://www.mbconservation.org/mustard.html.